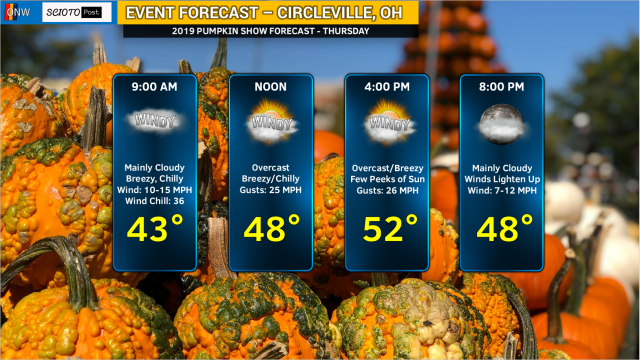 CIRCLEVILLE, OH — Was today's weather not very festive for the Pumpkin Show? We experienced rain early on before much got going and it was chilly and windy through the day as we projected. Hopefully if you went you found a way to stay warm!
Looking ahead, Thursday will be a copycat in the temperature department as highs only get into the lower 50's (providing we see enough sunshine). Winds will again be gusty at times around 25 MPH. A coat will be needed, along with some hot chocolate! We will have wind chills in the 30's during the opening hour or two of the festivities.
Clouds will stick around as this system becomes a major storm for the Northeastern States, and we are left with the back side. This means clouds are plentiful, winds are gusty, and temperatures are chilly. The good news? Friday & Saturday look MUCH better!