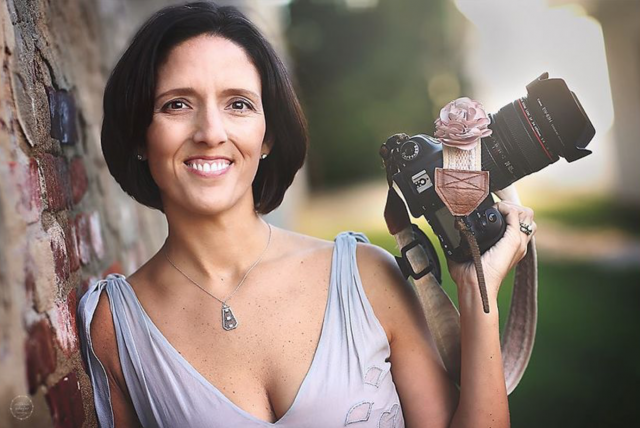 HOCKING HILLS – Two teenagers have been charged in the death of 44-year-old Victoria Schafer of Chillicothe. Schafer was killed when a tree branch fell from unnatural causes into the ravine where she was on a photo shoot. Those details originally released by the Hocking County Sheriffs officer were a bit unclear and the new release has now defined how it happened after getting statements from the two 16 year old teen aged boys that have admitted to the accident.
According to a press release sent out by Hocking County Prosecutors office the boys both 16 and from Logan have admitted to forcing a log over the cliff off old mans cave, the log has been described as 74 pounds and fell more than 75 feet before striking Victoria Schafer, a 44 year old woman and teacher from Chillicothe Ohio. The impact of the log killed Schafer instantly.
Now police say that the prosecutors will seek to try the two 16 year old boys as adults, because of the serious nature of the charges. Addiotnally the two boys will be charged with additional charges both boys will now face charges of Murder, involuntary manslaughter, and felonious assault.
Some of these charges are what they call umbrella charges and are typical of prosecution. Manslaughter charge and the Murder charge are the same under homicide and if one doesn't stick the other one is there for back up.
Police say that they have chased countless tips on this situation, most were dead ends, but and a tip on October 8th of a parent that said a juvenile had sent text messages to a classmate saying, "he had did something serious at the park with another juvenile" that led them to the individuals who caused this terrible tragedy.
Schafer was in the stairs new the lower falls area, when she was struck from a falling log from above, she died at the scene of the accident.
The teens according to Hocking Hills and Ohio Department of Natural Resources were arrested on October 10th.
Police have attributed the information from the public that helped solve this crime.
The teens are being held at a juvenile detention center in Lancaster. Names will not be released unless they are decided to be tried as adults. Both teens have been charged with Reckless Homicide, but that may change as new information comes in based if this was intentional or not.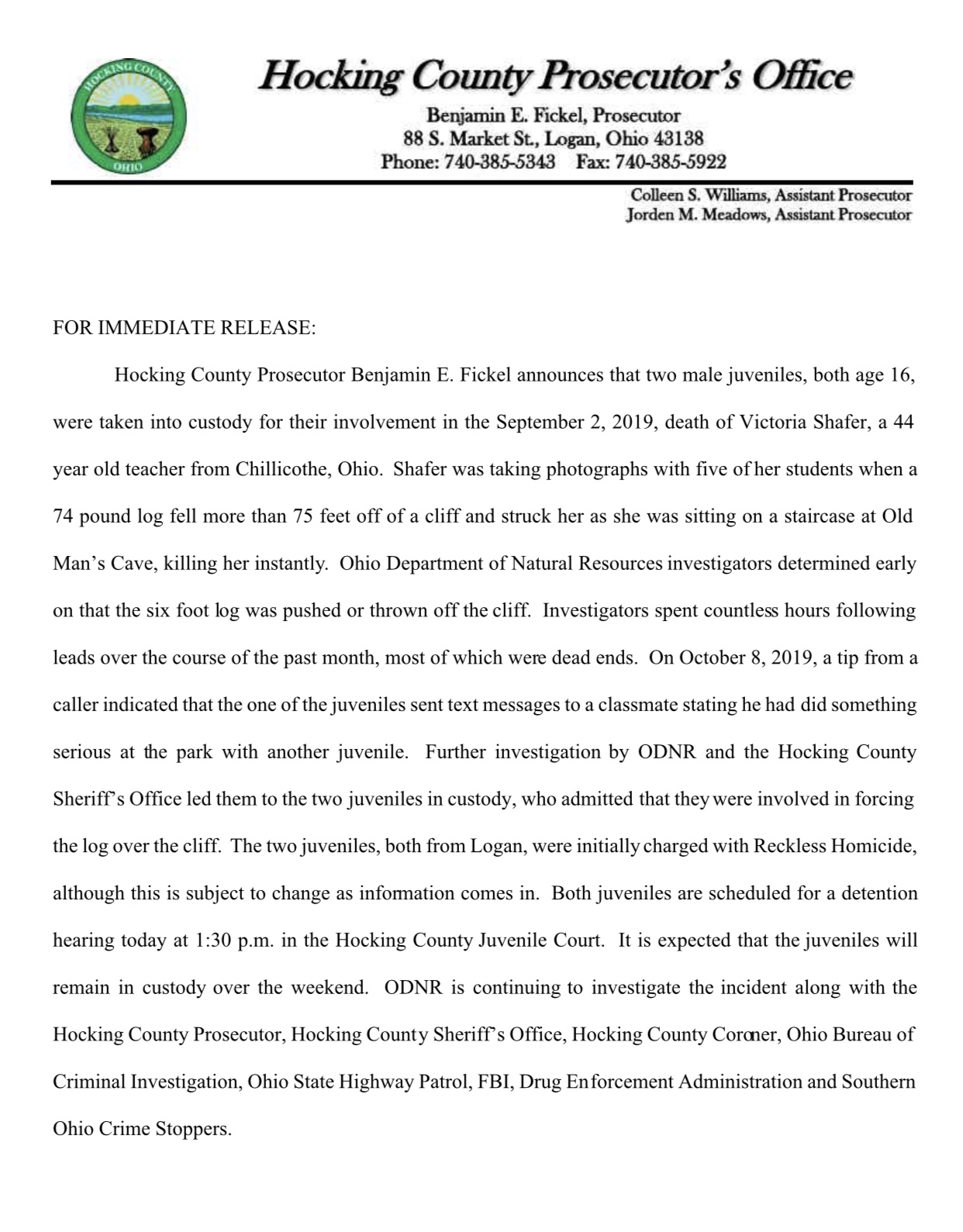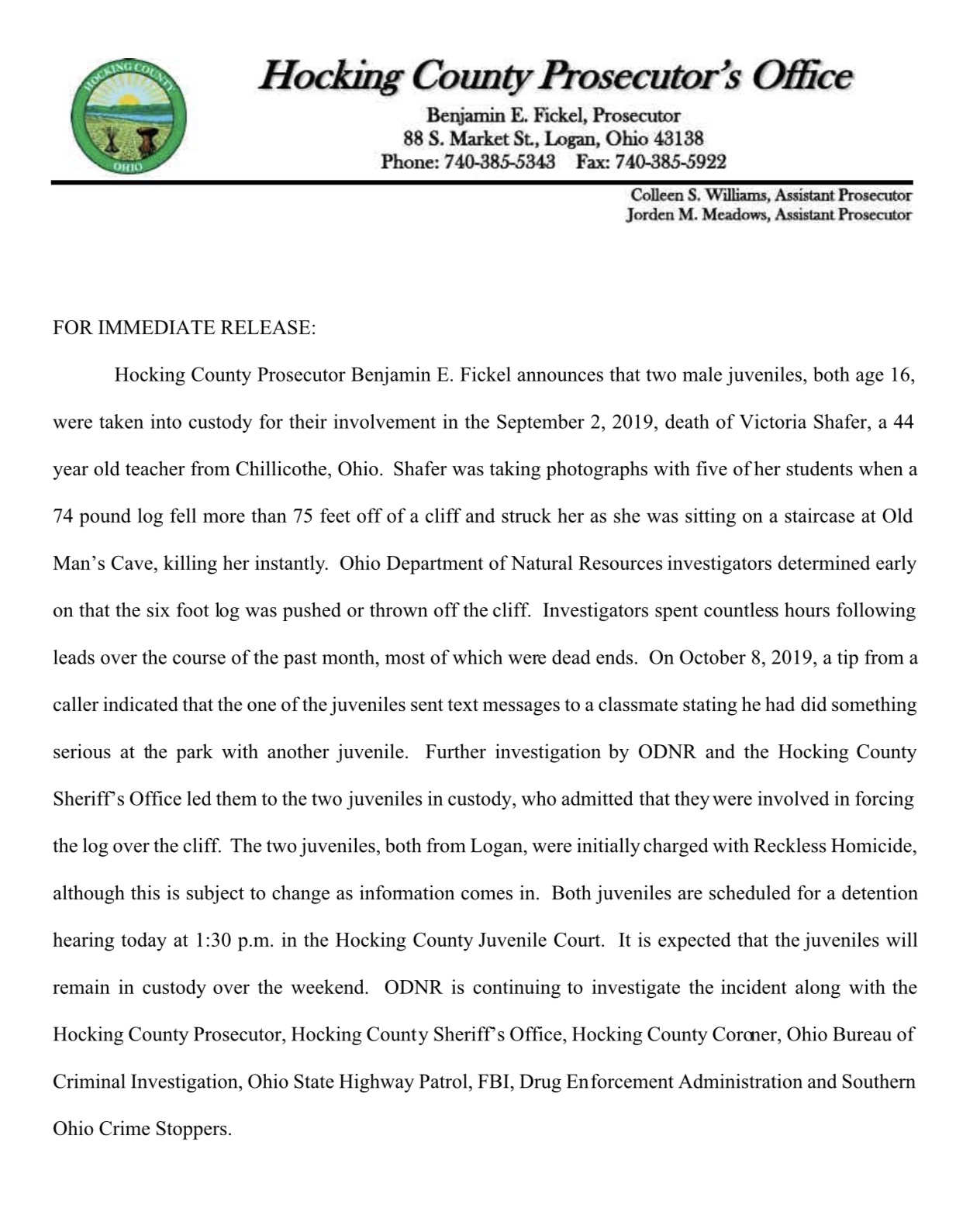 Statement from Hocking County Sheriffs office:
On Monday, September 2nd, Hocking County Sheriff's Office detectives assisted the Ohio Department of Natural Resources investigate the death of Victoria Schafer, 44 of Chillicothe, who was killed by a falling six foot section of a tree while on the stairs near Old Man's Cave.
Investigators were able to determine that the falling branch was not a natural occurrence and continued their investigation into the incident.
Detectives received information about two teenage boys who might have involvement in Schafer's death.
Investigators conducted interviews with the two individuals where they obtained a confession regarding the incident.
Two 16 year old males were taken into custody on Thursday, October 10th, and charged with reckless homicide.
Due to the defendants' ages, the names are unable to be released.
They were transported to the Multi County Juvenile Detention Center where they will await court proceedings.