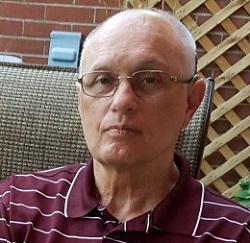 Marvin DeVors, age 74, of Circleville, passed away Tuesday, July 11, 2017, at Mt. Carmel West.
He was born Feb. 1, 1943, to the late Richard and Mary Marvene (Ward) DeVors.
He retired after 33 years as a manager at Capital Manufacturing in Columbus.
Preceding Marvin were his parents; brothers, Richard and David DeVors; and special aunt, Betty Havens.
He is survived by his loving wife, Dixie (Stover) DeVors; daughter, Theresa (Bill) Withers of Circleville; son, Todd (Cheri) DeVors of South Bloomfield; grandchildren, Tera (Chris) Eliot, Lisa (Brad) Cunningham, Matthew (Becky) DeVors, Abagail and Elijah DeVors; great-grandchildren, Brayden and Chase Crawford, Savannah Eliot, William and Lily DeVors; sister, Janice Blankenship; and several nieces and nephews.
Visitation will be held from 5 to 8 p.m. Friday, July 14, 2017, at Oliver-Cheek Funeral Home, 420 W. Main St., Ashville. The funeral will be held at 11 a.m. Saturday, July 15, 2017, at the funeral home with Pastor Don Blankenship officiating. Burial will follow at Harrison Twp. Cemetery, South Bloomfield.
The family would like to thank Pastor Don Blankenship, Merry Kay Mills, and the Mt. Carmel West staff for their love and support during Marvin's illness.
For those who wish to give in Marvin's memory, please send donations to Ashville Church of Christ in Christian Union, 420 Long St., Ashville, OH 43103; or Nationwide Childrens Hospital Foundation, P.O. Box 16810, Columbus, OH 43216.
This article originally appeared on The Pickaway News Journal