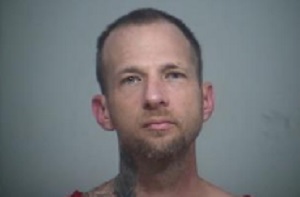 Trish Bennett, Editor
Joshua T. Rea, 39, of Church Street, New Holland, was indicted by the Pickaway County Grand Jury on July 7 for one count of robbery, a third-degree felony, and one count of theft, a fifth-degree felony. He pleaded guilty to both charges Wednesday.
Rea was apprehended within minutes of robbing the Milton Banking Company June 29 after Chief Jason Lawless, New Holland Police Department, responded to a call from the bank reporting the robbery.
Tellers informed Lawless they had given the suspect $4,860 in cash after he entered the bank wearing a bandanna and sunglasses demanding money.
Based on information from the scene, Lawless made contact with Rea on Church Street, where he reportedly obtained a confession. Rea then led Lawless to the stolen money hidden in the attic at his Church Street home, which included $100 more than was reported stolen from the bank.
Investigators also discovered the bandanna and sunglasses in a trash bag inside a neighbor's garage.
This article originally appeared on The Pickaway News Journal