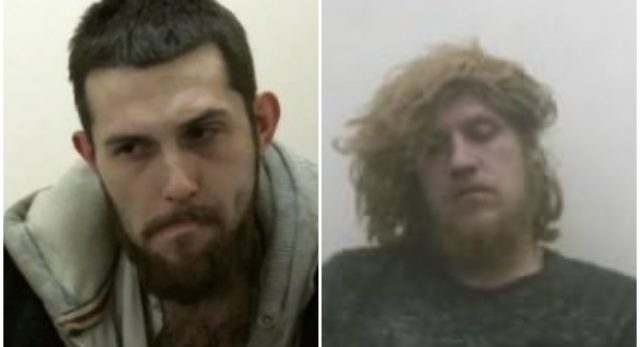 Pike County Sheriff Tracy D. Evans reports that on April 7, 2023, at 1508 hours. His office received a 911 call from an unknown female who was screaming in the background on the phone. Sheriff's Office Dispatch remained on the line listening to this female and a male arguing with one another and concluded that it appeared the female was being forced or abducted against her will we they overheard her say, "YOU ARE HOLDING ME HOSTAGE."

Pike County Dispatchers were able to locate the origin of the call in the area of Jasper Elementary School in Piketon, Ohio. At 1509 hours, Pike County Deputies responded to the area along with Piketon and Waverly Officers. Once in the area, deputies and officers were flagged down by a witness who stated that a male suspect known as Jerry Parsons II, had forced a female, Meghan Doyle into his vehicle. The witness stated that he had just been assaulted by Mr. Parsons. He further stated that Mr. Parsons then fled from the scene taking Ms. Doyle with him in a green in color SUV in an unknown direction of travel.

Surrounding county law enforcement agencies and the Ohio State Patrol were then immediately notified of the incident. Ohio State Patrol soon located the green SUV on Fog Rd and attempted to initiate a traffic stop. The driver of the suspected vehicle fled from the troopers as a pursuit ensued. Stop-sticks (spikes) were employed on the vehicle in the area of Germany Rd. and Owl Creek Rd. The Stop-sticks were successful as OSP, Pike County Deputies, Waverly and Piketon officers continued to pursue the vehicle. The vehicle then turned onto Vance Rd., which was a dead-end road. There, law enforcement officers were able to stop the vehicle and take the occupants into custody without any further incident.
The driver of the vehicle was identified as 33-year-old Andrew Workman of Chillicothe, Ohio and passengers identified as 21-year-old Jerry Parsons II of Waverly, Ohio and 23-year-old Meghan Doyle of Lucasville, Ohio. Andrew Workman was arrested on outstanding warrants out of the Pike County Sheriff's Office for FTA on Disobeying Police and Felony Trafficking in Methamphetamine. Also, Mr. Workman had a warrant for Assault out of Ross County Sheriff's Office. New charges for Felony Fleeing and Eluding will be filed by the Ohio State Patrol on Andrew Workman. Jerry Parsons II was arrested and charged with M-1 Assault and F-3 Abduction. This case will be presented to the Pike County Prosecutor Mike Davis for further recommendation of charges and grand jury indictments. Sheriff Evans would like to thank the Ohio State Patrol, Waverly Police Department, and the Piketon Police Department for their joining apprehension efforts.
---