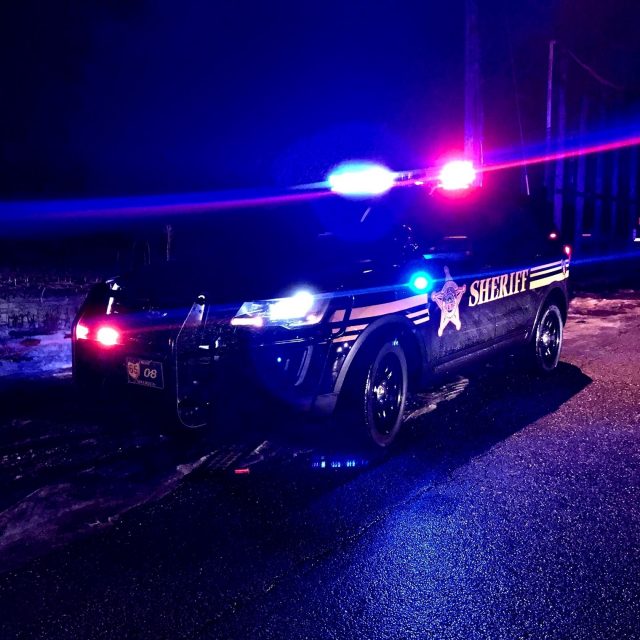 PICKAWAY – Pickaway Sheriff has released police reports on going on around the Pickaway County area, these have been filtered to protect the innocent.
Missing Person – Darby Road Circleville
December 5th, 2019 at 00:42 hours, this reporting unit was dispatched to Darby Road on report of a missing juvenile that had been located. Deputy Moore (U-32) and Sergeant Eveland (U-26) were at the above residence on 12/04/2019 at 22:48 hours on report of a juvenile missing from the residence. It was told to both units that he had consumed a large amount of liquor and locked himself into his bedroom and at some point jumped out of the window and left the residence. He was not located and was entered into LEADS as missing.
UPDATE: Father stated he found the juvenile across the street in an old hog barn and was able to get him back to the residence with no incident. The Parent said was asleep and that he was concerned of the amount of alcohol that was consumed.
Dispatch later advised that Ethan was checked by the squad but was not transported.
ASSAULT Kahler Rd Orient Ohio
December 5th, 2019 at 01:09 hours, this reporting unit was dispatched to Kahler Drive on report of a domestic dispute.
Suspicious Vehicle  South Court Street Circleville
On Thursday December 5, 2019 around 0250 hrs this deputy overheard Circleville Police investigating a suspected hit-skip injury accident in the 500 block of S Pickaway Street. The vehicle left south bound until the their caller lost sight of it. I toured the area in an attempt to locate it. At 0254 hrs I found a vehicle that was of similar make, model, and color parked near the intersection of S Court and Main Streets. The city police department and Officer Morningstar were advised with the information. I then cleared the scene.
Stolen Car Freedom Run Orient Ohio
Upon arrival, I spoke with victim who advised he left the keys in the center console of his 2020 Chevy Traverse, white in color. He stated the last time he saw it was around 2200hrs. yesterday's date and when he came out to start his other vehicle around 0725hrs. he realized the vehicle was missing, keys with it and a half tank of gas. The vehicle was entered into LEADS.
While this unit was gathering information from victim, he stated the vehicle had Onstar. I advised him to contact Onstar so they could begin the tracking progress. After Onstar verified information with this unit, they tracked the vehicle Exodus Fellowship Church, 812 E. Fulton St. in Columbus but advised it was sitting on the S. 17th St. side of the building.
Onstar advised the placed a transmission lock on the vehicle.
Dispatch advised Columbus Police Department of the situation and the location of the vehicle. This unit cleared with nothing further.
ASSIST OSP US 23 Sout
On 12-05-2019 at 1109 hours, my K9 partner and I were requested by the Ohio State Highway Patrol, Trooper Hollbrook. I deployed Joris for a free air sniff around the vehicle, Joris alerted to the odor of narcotics coming from the vehicle. After gathering the information I later cleared the scene.
Theft US 22 Stoutsville
On 12-05-19 at about 1156 hrs this unit was dispatched to Rt 22 east on a theft. He stated the back door had been pried open and the listed items were missing.
Traffic Stop South Pickaway Street
On 12-05-2019 at 1216 hours, I stopped a vehicle bearing Ohio registration J303901, due to identifying the driver, Gary Nicolia, who had a suspended license. I stopped the vehicle on S. Pickaway Street at the intersection of Fourth Street. I advised Mr. Nicolia why he was stopped, he stated, "yeah I knew it was you Harger and I told her that you knew I didn't have a license, so we were probably going to get stopped." The female passenger was later identified as Mindy Smith. I asked Mr. Nicolia to step out of the vehicle. I asked him if there was anything inside the vehicle illegal, he stated, "no Harger you can search the car. Mindy may have something, but I know you are fair and just tell her to give you anything she may have." I patted down Mr. Nicolia's outer garments for weapons for my safety. I asked Mindy if she had anything on her person or in the vehicle, she stated, "no go ahead and search the vehicle." After Ms. Smith was removed from the vehicle, I asked Mr. Nicolia again, "you are okay with me searching the vehicle," and he stated, "yes go ahead and search it."
Upon search of the vehicle I located a Marlboro Menthol cigarette pack in the center console of the vehicle. Inside the pack, I located a clear baggie, with a crystal like substance inside. Both Mr. Nicolia and Ms. Smith were advised of their Miranda Rights, advised they understood them and placed in handcuffs. Both stated the substance inside the clear baggie was methamphetamine. Both were in control of where the cigarette pack was laying and both stated, "it's not my dope." Mr. Nicolia and Ms. Smith were later transported to the Pickaway County Jail, charged with possession.
Suspicious Vehicle Darby Creek Orient
On December 5, 2019 at 1321hrs. this unit, Deputy Blanton, was advised of a suspicious vehicle parked at the dead-end of Iroquois Way by the lake. The Park Manager advised this unit the vehicle is occupied by a male who appeared to be shooting up. Upon arrival, I observed a red Chevy Camero back into the drive of 9075 Iroquois Way and a male, who was sitting in the driver seat.
After talking to suspect and checking plates and LEADS the officer cleared the scene. Nothing Found.
Identity Theft Riverview Rd Pickaway
On December 5, 2019 about 1502 hrs, this unit responded to Riverview Rd. on a report of identity theft. Contact was made with the reporter/victim, who advised that between November 1st and December 3rd, unknown person(s) obtained her Direct Express card information and used it for multiple, unauthorized transactions.
It was stated that the card was used at unknown stores or web sites. The amounts were reported to be two transaction in the amount of $3.00 each. One on the 1st and the second on the 3rd. A $13.00 transaction was also used on November 3rd. She stated that there were multiple transactions made on December 3rd totaling an amount of $425.00.
Larceny From Vehicle DARBY CREEK RD ORIENT
On 12-05-2019 at 1604 Hrs. this unit was dispatched to Darby Creek Rd Orient, Ohio 43146 on a reported theft.
Upon my arrival this unit met with resident – complainant  advised from 0900 Hrs to 1530 Hrs. of having unknown person steal the listed tools out of his 2019 Chevrolet Silverado. No suspects were seen. This unit found that Vidal's truck was unlocked during the time of the theft.
Complaint – Property LOCUST GROVE    NEW HOLLAND   OH
On December 5, 2019 about 1545 hrs, this unit responded to Locust Grove Rd. on a property complaint. Contact was made with the reporter. It was found that Robert had purchased the stated address and was remodeling the interior. Upon checking he found that a 55 gal. drum he was using for scrap wood, insulation and other debris had caught fire and burnt itself out. The drum was against the ignited part of the drywall and wood structure. A work/utility light was in a close proximity to the drum and was plugged into the outlet. He stated that one of the bulbs was not working and could have came on while he was away causing the heat from the lamp to ignite the materials.
There were no signs of forced entry into the structure. It appeared the the fire was accidental.
Harassment Strawser Rd Orient
On December 5, 2019 about 1725 hrs, this unit responded to Strawser St. on a reported harassment. Contact was made with the reporter, who stated that she is in the process of a divorce with her estranged husband. She stated that he began texting her yesterdays date regarding apparent calls and texts he was receiving from her, but using different phone numbers. According to his texts to her, the messages are in a threatening manner due to him stating that he was sleeping with his gun in the bed with him.
Larceny From Vehicle ARAPAHO DR Circleville
December 5th, 2019 at 21:37 hours, this reporting unit was PCSO dispatched to Arapaho Drive Apartment 4 on report of theft from a vehicle.
This unit arrived on scene at 21:44 hours and made contact with resident. Resident stated that several items were stolen from her vehicle sometime over night.
Resident stated that she discovered it around 08:00 hours this morning. Resident stated that the vehicle being a 2009 Chevrolet Equinox maroon in color was parked outside of her residence and was left unlocked. Resident stated the items taken were three pairs of sunglasses, a bottle of perfume, a blanket, a phone charger and a ring.