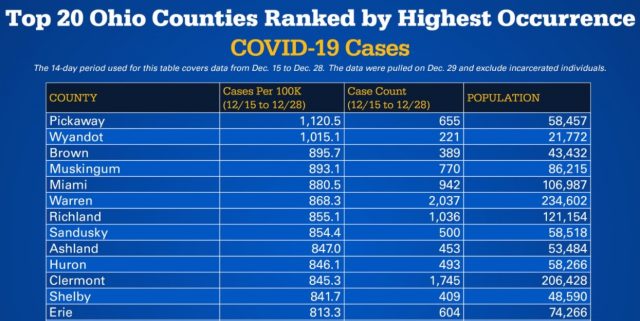 PICKAWAY – Out of 88 counties in the state of Ohio Pickaway has hit the top of highest occurring covid-19 cases.
Governor Dewine released the numbers during a Covid019 update for Ohio. The top 20 counties were in a 14-day period from December 15 to Dec 28.
Pickaway who is at the top is rated at 1,120.5 cases per 100,000 people with a total case count of 655. Pickaway has a population of 58,457 people. other counties in the top 20 are Wyandot, Brown, Muskingum.
As of 3:00 p.m. today, Tuesday, December 29, 2020 there is a total of 614,031 confirmed COVID-19 cases in Ohio and 7,903 deaths. Currently there are 5,564 confirmed positive COVID-19 cases in Pickaway County, 2,622 being inmates, leaving 2,942 local residents who have tested positive. There are 680 active local resident cases with 15 hospitalized. There are a total of 69 deaths, 37 being inmates and 32 community deaths.