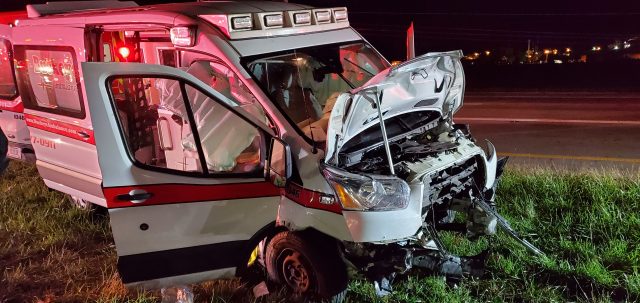 Pickaway County OH- A wrong way driver was the cause of a serious crash on U.S. 23 this weekend. It occurred on Saturday October 3rd, 2020 just after 11:00P.M. in the north bound lanes of U.S. 23 in front of the Pilot truck stop.
A silver 2005 Buick Park Avenue driven by 36 year old Tyler Hiles of Chillicothe was driving south bound in the north bound lanes. A Buckeye Ambulance driven by 34 year old Mathew Freeland of Dayton was headed north bound in the north bound lanes when the two vehicles collided head on.
The Buckeye Ambulance had a total of three occupants that included a patient being transported, all three suffered injuries in the crash and were transported to Berger Hospital.
The wrong way driver was also injured and taken from the scene by squad to Berger Hospital. According to the report obtained from law enforcement, alcohol is believed to be a factor in this crash.