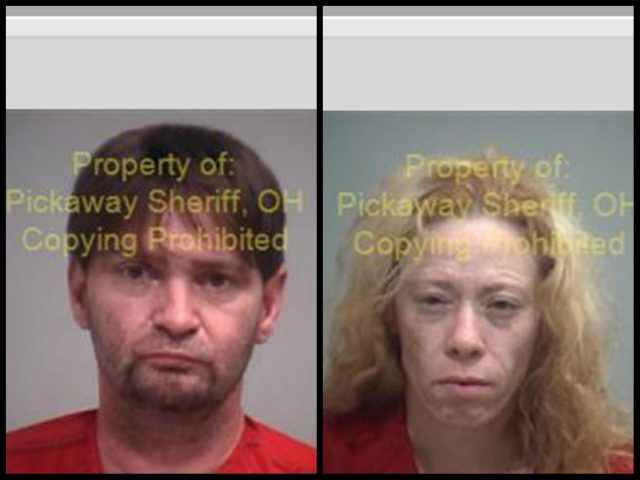 Pickaway County OH- September 27th 2020 at 2222 hours Deputy Howard was traveling US 23 southbound near MP 16 when he observed a vehicle in front of him with lighting violations.
He stopped the vehicle MP 15 and made contact with the driver, Jolayne Blake and passenger William O'Connor. He requested Jolayne out of the vehicle and showed her the equipment violations. Jolayne advised they were visiting William's daughter in the Grove City area. During their conversation the deputy noticed William moving around the front seat a lot and reaching around. The deputy went up and made contact with William O'Connor and requested his ID. While waiting for dispatch to run his information the deputy noticed an odor of raw marijuana coming from the vehicle and William had began to smoke a cigar causing heavy smoke in the vehicle. The deputy asked William if there was any marijuana in the vehicle and he stated no. The deputy secured William in the cruiser and asked Jolayne if there was anything illegal in the car and she stated no.
Under the driver seat the deputy located a small black zipped bag, inside the bag was a scale, several small clear baggies, and approximately 20 grams of Crystal Meth. The deputy requested South Bloomfield for assistance. The deputy secured Jolayne in South Bloomfield's cruiser and continued the search of the vehicle. The deputy located a very small amount of raw marijuana in the head liner of the vehicle and a 2nd scale in the glove box. A gun was also recovered
The deputy read William his Miranda rights and he stated he understood. William denied any knowledge of the Crystal Meth. The deputy secured all evidence into the cruiser.
Officer Maynard from South Bloomfield PD transported Jolayne to the Pickaway County Jail for booking. William was transported to Berger E.R. for a checkup and was then transported to the Pickaway County Jail.
The firearm located is a 9mm Beretta Nano.
O'Connor was charged with Improper Handling of a Firearm – 2nd degree felony
Trafficking in Drugs – 2nd degree felony
Possession of Drugs – 2nd degree felony
Blake was charged with the same as O'Connor but the Improper Handling of a Firearm is a 4th degree felony.