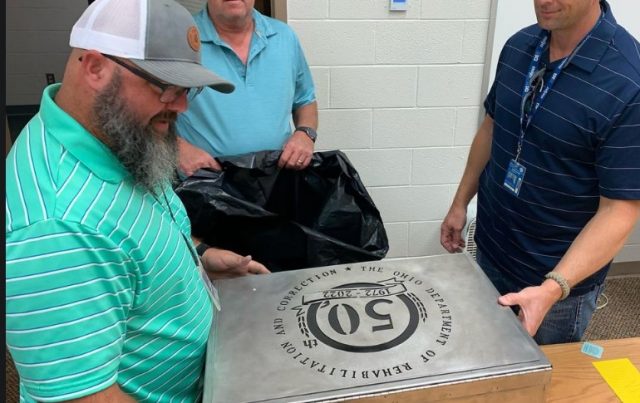 Orient – On July 8, 2022, the Ohio Department of Rehabilitation and Correction celebrated its 50th anniversary as a stand-alone state agency.
As part of the event, a time capsule was dedicated which included several items, plus additional items were brought to the event by facility leadership and other guests.
That Capsule was buried on Tuesday at the Memorial Park in Orient, OH.
During the celebration, the contents of the container were reported as followed.
AMERICAN CORRECTIONAL ASSOCIATION FLAG
CORRECTION OFFICER UNIFORM
COVID-19 CARE PACKAGE, PATCH & PIN
CORE VALUES LAPEL CARD
DIRECTOR'S AWARD & IMPACT AWARD COIN
FOLGER ADAMS KEY
INCARCERATED ADULT UNIFORM
INCARCERATED ADULT TABLET
LETTERS TO FUTURE DIRECTOR FROM ALL LIVING FORMER
DIRECTORS
PAROLE OFFICER VEST & BADGE
PATCHES & CHALLENGE COINS FROM ODRC PRISONS
SPOTLIGHT AWARD LAPEL PIN
TRAVELING FLAG (FLOWN AT ALL 28 ODRC PRISONS & OSC)
2021 ANNUAL REPORT
2022 AGENCY ROADMAP
30TH ANNIVERSARY HISTORY BOOK
50TH ANNIVERSARY EVENT PROGRAM, HISTORY BOOK & COIN
PERSONAL DONATIONS
During the event, the first female director of the Ohio Department of Rehabilitation and Correction said, "It is incredible how this agency has grown and changed over the years having had just nine directors since 1972. This 50-year anniversary is a testament to our leadership throughout the years and to the thousands of dedicated men and women who served and continue to serve this agency with immense pride and great professionalism.
As the first female director of the Ohio Department of Rehabilitation and Correction, I am thankful to have been mentored by some of the directors who came before me. I've watched their visions come to life and I've witnessed their leadership skills bring about new generations of leaders to take the helm of the agency. The eight men who served in this role before me paved the way and laid a solid foundation for Ohio to continue to be one the most progressive correctional systems in the country.
Pickaway Correction Institution opened in 1983, the Correctional Reception center opened in 1987, both in Orient.