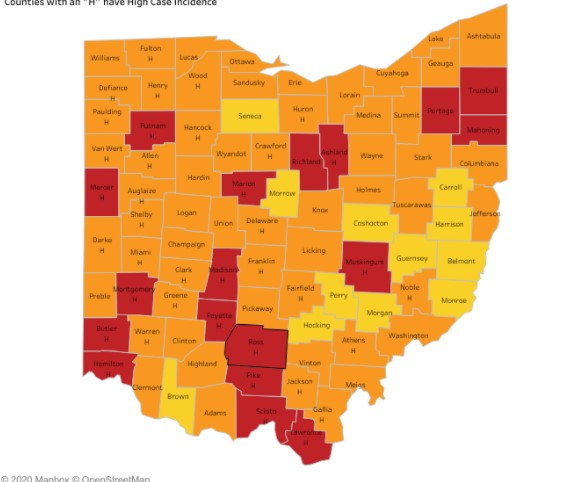 SOUTHERN OHIO – Pickaway county after being in low teens for several weeks has spiked in cases. Ross County moved from Orange to Red due to a spike in cases also.
According to Pickaway county health Thursday day, October 8, 2020 currently there are 2,759 confirmed positive COVID-19 cases in Pickaway County, 2,221 being inmates, leaving 538 local residents who have tested positive. There are 45 active local resident cases with 7 hospitalized. There are a total of 45 deaths, 37 being inmates and 8 community deaths.
Over the last week cases have increased by a significant amount just after the county moved to yellow due to less cases.
Ross county moved from orange to Red due to the increase in the rate of cases per 100,000 population from 43.04 on September 29th up to 143.48 today on October 8th.
According to Ross County Health, Ross County is experiencing an upward trend in COVID-19 related Emergency Room Visits and Hospital Admissions over the last few weeks. Please check our website and social media posts for an update on case activity, as a Community Advisory Report will be released soon with more details about current trends related to the increase in cases. With the increase in cases, ER visits, and hospitalizations, RCHD Advises to take a high degree of caution to limit spread of COVID-19. Wear a mask when in public, keep six feet from others, avoid large gatherings or events, and wash hands often.