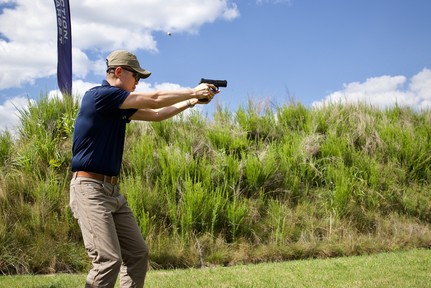 PICKAWAY – Shooting Range is hours have changed and will be reopening on n Wednesday, March 9th
Scheduled to open at the beginning of the month flooding has delayed the opening until next week.
Special instructions for the shooting range
Shooting range hours have changed due to COVID-19. New hours are Wednesday-Sunday 9 a.m.-5 p.m. with last shot at 4:25 p.m. This allows time for the sanitation of the entire range before the gates close at 5pm. Shooters must maintain social distancing while shooting on the range.
Deer Creek Shooting Range lies in a flood plain and is prone to flooding during a heavy rain. As the water in this area takes much longer to recede than to rise, the closures often last several days. Please call the range office 740-412-3420 or District 1 office 614-644-3925 before traveling to this range to ensure it is open. Be sure to follow Your Wild Ohio on social media for updates.
TO SHOOT AT THIS RANGE YOU MUST BRING:
Valid range permit. Permits cannot be purchased on site.
Target and target stand/holder. Deer Creek Shooting Range does not provide targets or target stands. Self-healing reactionary polymer targets and paper targets are allowed. No steel targets allowed.
Target stand/holder. Permissible target stands: store bought stands, road side advertising/election signs, cardboard boxes, and wood framed stands. Target backer must be cardboard, corrugated sign material, or paper.