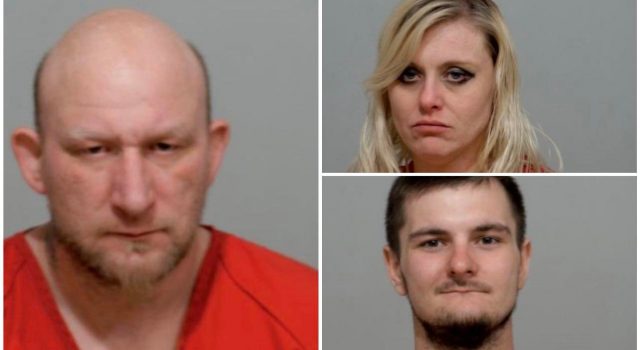 Pickaway County – three people were caught in the act of theft by Pickaway County Sheriffs' office after a concerned neighbor reported suspicious activity.
According to the Pickaway County Sheriff's office on 4/18/23 around 7 pm, they were dispatched to the area of 28000 River Dr for a suspicious vehicle. When Deputies arrived they found a white box truck van in the driveway. Inside was a female identified as Stephanie Vansickle, who was acting very strange, almost as if she was under the influence, and a male identified as Bryce Sparks arose from the back of the van. The deputy asked where the driver of the van was and the two told police that were there to, "look at the house and were scrapping."
The deputy found the third person identified as Joseph Hashman was walking around near the tree line behind the garage. When asked he told the deputy that he was looking for, "mushrooms." The deputy observed Joseph having a large flashlight in his right hand, but it was still daylight.
Due to suspicions of a crime taking place, Hashman was detained, during the pat down Joseph had a large fixed-blade knife on his right hip. Joseph also had a case in his pocket with a large vape pen, two large green leafy nuggets, and a white pill bottle with a white powder-like substance in it.
After another deputy arrived a search of the property was made, and it was found the side door of the garage was forced open, and fresh footprints inside the property. Around the back of the home, the basement door was also forced open, and several fresh footprints around the door.
On the garage, it was noted that the gutters were torn down also.
Joseph Hashman, Stephanie Vansickle, and Bryce Sparks were all arrested and charged with breaking and entering and theft. Joseph Hashman was also charged with possession of drugs, all parties were taken to the Pickaway County jail