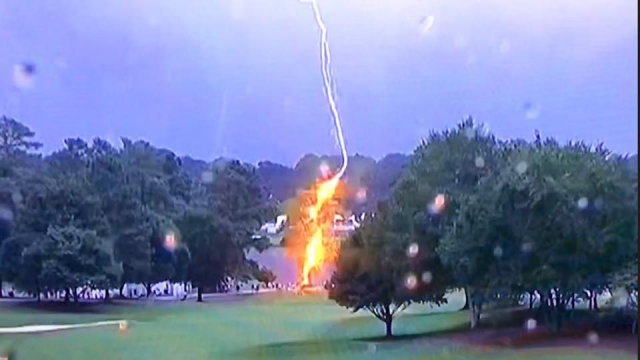 Our forecaster Nick Dunn had this to say on today's event:
"Today we witnessed what can happen with mother nature. Lightning can strike more than 10 miles away from any thunderstorm. Lightning will use anything possible to reach the ground. Often times, we see lightning strike trees, poles, and other tall objects because it shortens the distance to the ground.
It is highly important to remember that you MUST get indoors when thunder roars, and keep an eye to the sky. We hope that everyone survives this tragedy."
According to the Associated Press, 5 people were injured when lightning struck a pine tree during the opening play of the tour Championship in Atlanta. The 5 people were moved to ambulances and 3rd round play has been suspended.
NBC just showed a lightning strike out at the #TOURChampionship at East Lake that injured possibly 4. This is a slow motion shot of their coverage. Wow! 🙏 pic.twitter.com/0Z1ARb6a8q

— Craig Lucie (@CraigLucie) August 24, 2019