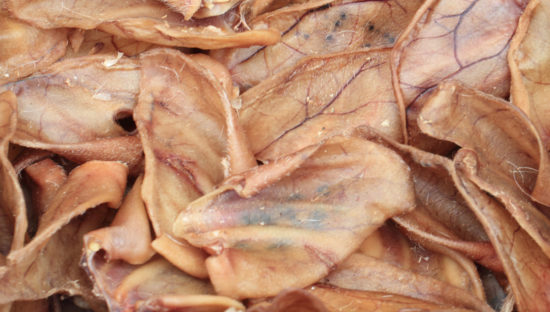 MICHIGAN – Pet Supplies Plus is issuing its own recall after a positive test for salmonella in Michigan.
Bulk pig ears were distributed to Pet Supplies Plus stores in AL, AR, CA, CO, CT, DE, FL, GA, IA, IL, IN, KS, KY, MA, MD, MI, MN, MO, NC, NE, NH, NJ, NY, OH, OK, PA, RI, SC, TN, TX, VA, WI and WV. Bulk pig ears were stocked in open bins. Prepackaged branded pig ears are not included in this voluntary recall.
There are 45 reports and 12 hospitalizations linked to handing of pig ear dog treats by humans already in 13 states. The CDC Officials from the Michigan Department of Agriculture and Rural Development gathered pig ear dog treats at retail locations where ill people reported buying the products. They sampled pig ears for Salmonella. Although the outbreak strain was not identified, other strains of Salmonella were. Investigators are checking to see if any human illnesses are linked to those strains. Retail locations where sampling occurred have removed pig ears from shelves.
Salmonella can cause serious health issues. Pets with salmonella might appear lethargic or have diarrhea, and dog owners should contact their veterinarian if they have concerns.
Consumers who have purchased bulk pig ears should discontinue use of the product and discard it. Consumers who have further questions are welcome to contact our Neighbor Service team at 734-793- 6564 between Monday and Friday 9 a.m. – 4 p.m. EST (excluding holidays).