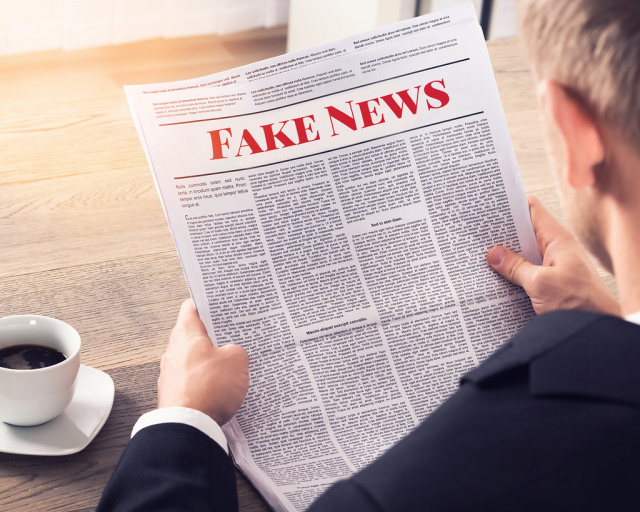 CHILLICOTHE – The city of Chillicothe has posted outrage on its actual facebook page about another page faking to be a official city page.
"The City of Chillicothe is aware that there is a fake page holding itself out to be the official city page. We understand that this is the work of an internet troll, and our policy has been that we do not feed trolls. The situation has grown more serious and we appreciate the public's help in reporting this fake page to Facebook. In the mean time I've asked the City Law Director to explore our potential claims, and I have already spoken to private legal counsel. I hate to see someone undermining all the progress and good things happening in Chillicothe. So, I invite everyone to the REAL Chillicothe – Chillicothe is spelled with two Ls, by the way – and check out Tecumseh, the great shops and restaurants downtown, Hopewell Culture National Park, our great mountain biking and hiking trails, or a Paints Baseball game."
Sincerely,
Luke Feeney
Mayor
The fake page called City of Chilicothe, Ohio (only one L) is a parody page that has been poking fun at things the city does.  Last night after the fireworks the page made a statement that due to the higher costs of narcan they had a weaker fireworks display.  Saying the addicts ruined the holidays for everyone.
This isn't the first time that the city has fought with the parody page, a few months ago a similar page released information that the Wahlburgs were bringing a food truck to Chillicothe.  That particular post went semi-viral and caused some issues because it was fake news.
A Copy of the post in question :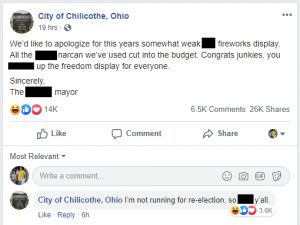 We here at Sciotopost aim to be as accurate as possible with our news and if we find something incorrect we will redact, edit or fix the story to be accurate.  Sometimes being on the edge of news information from witnesses and scanner traffic details can be slightly wrong but we try to fix and issues that we have.