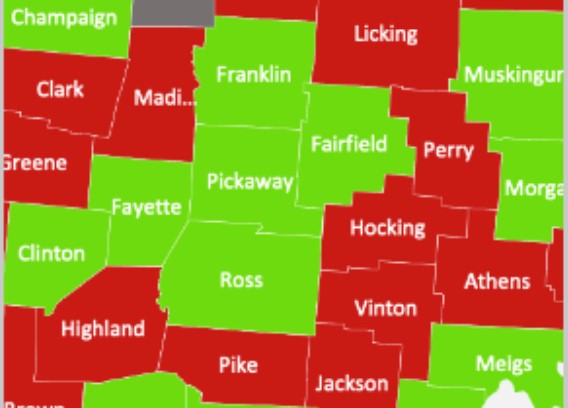 OHIO – SOme counties have suffered an increase in overdose deaths so far this year compared to the same time last year this time.
According to Harm Reduction Ohio, 48 Counties have seen overdose death increase since last year including Hocking, Vinton, Highland, and Pike since this time last year. Pickaway, Fairfield, Fayette, and Franklin have seen less.
The Grey color on the map is unchanged
Overall, confirmed overdose deaths have increased by 9% statewide this year vs. 2020, a year in which a record of 5,017 Ohioans died from accidental drug overdoses.
Rural counties, especially in Ohio's southern half, are reporting big increases in overdose death. Lawrence and Vinton counties continue to rank No. 1 and No. 2 in overdose death rates. Meth-fentanyl overdoses continue to drive death in many of Ohio's rural counties.