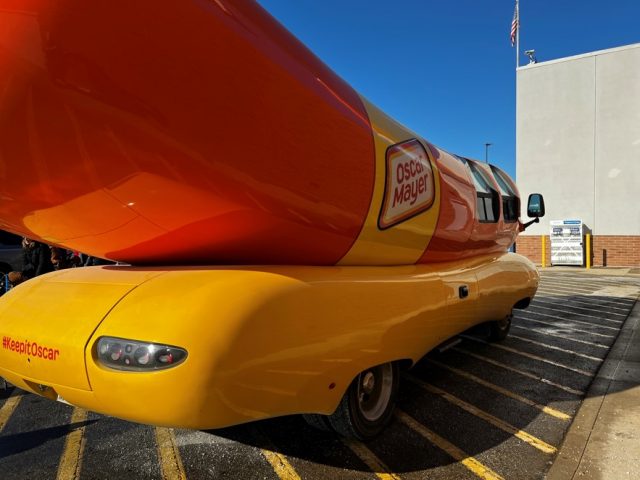 US – Today, Oscar Mayer ushers in a new era for its beloved Wienermobile, changing the vehicle's name for the first time since it first hit the road in 1936. The newly coined "Frankmobile"pays homage to the brand's 100% Beef Franks as it debuts a tasty new recipe with a more balanced flavor profile and iconic beefy taste that is more flavorful than ever – all while sparking miles of smiles and uniting fans around a love of meat.
For the first time in nearly 100 years, the iconic Wienermobile gets a beefy new name, The Frankmobile, inspired by the tasty new recipe for Oscar Mayer's 100% All Beef Franks. (Photo: Business Wire)
Debuting this week, the fleet of six vehicles feature bun-derful new elements, including saucy exterior decals, Frank Whistles (formerly Wiener Whistles) and a newly renamed class of Hotdoggers behind the wheel – now known as Frankfurters. What's more, the Frankmobile is offering "Franks for Franks," so anyone named an iteration of "Frank" can stop by in real life to get their hands on a coupon for a free pack of delicious Oscar Mayer 100% Beef Franks.
"The Wienermobile is a beloved American icon that has been sparking smiles and driving craveability for our iconic delicious wieners for nearly 100 years," said Stephanie Vance, Associate Brand Manager, Oscar Mayer. "This summer, it's time to highlight another fan-favorite: our delicious 100% Beef Franks. When Oscar Mayer makes anything, we prioritize taste over everything, so no matter what kind of hot dog you enjoy this summer, if it's Oscar Mayer, you know it will be 100% tasty, and 100% make you smile."
The debut of the new Frankmobile comes as Oscar Mayer continues to bring its signature brand platform, "Keep It Oscar," to delicious new heights. From Frank-themed whistles to comical "please do not lick" decals, Oscar Mayer designed every detail of the Frankmobile to encourage people from takings things too seriously, freeing people up to enjoy themselves with seriously delicious meats, like Oscar Mayer's 100% Beef Franks.