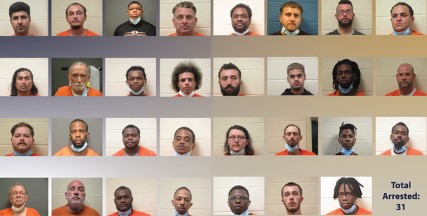 CLEVELAND – Cuyahoga county agencies and Internet Crimes Against Children launched an operation over the week that resulted in over 30 arrests in the area for sex crimes against children.
During a press conference with Cuyahoga County Prosecutor Michael O'Malley, Newburgh Heights Police Chief John Majoy, and others Investigators said that 31 people who were arrested had sexually-explicit conversations with people they believed were underage. The sting placed law enforcement officers undercover online pretending to be those children.
The individuals now face multiple felony charges from unlawful sexual contact with a minor to compelling prostitution, when some of the suspects showed up to a residence used in the sting.
Police seized cell phones, drugs, alcohol, lubrication, and condoms during the arrests.
The arrested individuals include:
Arash Atai, 28, Lakewood, OH
Brett Fryberger, 28, Lakewood, OH
Charles Matthews, 21, North Randall, OH
Craig Bongiovanni, 53, Columbia Station, OH
Daron Carstarphen, 27, Cleveland, OH
Domingo Gonzalez III, 27, Cleveland, OH
Eric McCloskey, 41, Parma Heights, OH
Hector Soto-Martinez, 33, Parma, OH
Ismael Caballero-Trejo, 40, Cuyahoga Falls, OH
James Corcoran, 80, Cleveland, OH
Jaylin Veasey, 20, Cleveland, OH
Jayson Sanabria-Cruz, 29, Cleveland, OH
Jeremy Purpura, 33, Middleburg Heights, OH
Joshua Vega, 22, Cleveland, OH
Justin Harge, 23, Cleveland, OH
Kenneth Markus, 45, Amherst, OH
Kyle Shelton, 25, Uniontown, OH
Mario Robinson, 33, Twinsburg, OH
Melvin Hooks, 30, Cleveland, OH
Michael Smith Jr., 37, Cleveland, OH
Nicholas Barnum, 25, North Ridgeville, OH
Patrick Vorreiter, 36, Cleveland, OH
Quintin Abrams, 20, Willoughby Hills, OH
Randy Gray, 34, Canton, OH
Richard Dobson, 68, Maple Heights, OH
Richard Newman, 57, Rocky River, OH
Robert Mell, 34, Cleveland, OH
Romaro Golphin, 44, Cleveland, OH
Taequan Matthews, 26, Euclid, OH
Tyler Horn, 25, Cleveland, OH
Tyrese Stewart, 21, Cleveland, OH
The operation only ran four days from May 19 to Saturday, May 22, 2021.