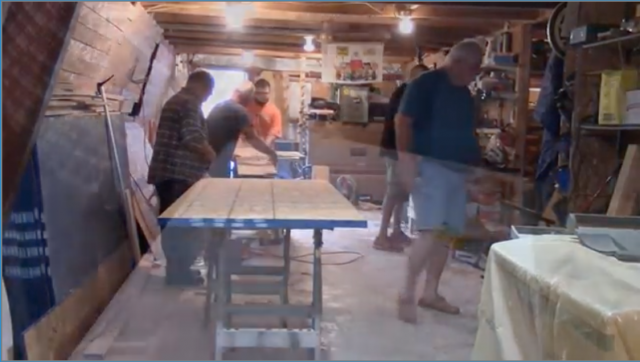 PICKAWAY – Every Wednesday night, a group of men and women get together to build and deliver beds to anyone in need in Pickaway County. It's been nearly ten years since they first began this ministry and they are now building and delivering around 200 beds each year. On July 18, 2018 we filmed some of the Pickaway County Bed Brigade volunteers (Brent Miller, Trent Morrison, Bill Shanks and Ron VanHorn) as they constructed, delivered and made the beds for two young children in need in Pickaway County.
Before the Bed Brigade existed, the idea was hatched when a friend from Marysville contacted Ron VanHorn needing help designing beds that could be easily and cheaply made. Ron said, "We threw together some 2 x 6's initially, came up with a little platform frame, and it was crude; an elementary and crude design. We built about ten beds for them." At the same time this was going on, Ron's wife Tracy, who worked for Pickaway County Children's Services, mentioned that there were families in Pickaway County needing beds, "and a light went off in my head."
 "So, we reached out to Children's Services, which is how we began here. We would drop beds off at Children's Services locally and they would deliver them." Ron VanHorn is the Pastor of Circleville Vineyard and with a group of men and women, they began meeting multiple times each week to build beds for the families in need. Before long, the Bed Brigade would not only be the builders, but they would also deliver the beds directly to those in need, including the surrounding counties.
Something exciting happened in November 2013 when ABC6 came down to Circleville to interview the Bed Brigade and aired their story on TV. Word quickly spread around central Ohio about this group and before long, they began helping to create Bed Brigades in other counties with six different campuses including Pickaway County, Ross County, Fairfield County, Grove City, and Upper Arlington branches.
This is not a subject that many people discuss and it can affect anyone. To those who work in the Bed Brigade, providing a bed to those men, women and children in need is a way return their dignity; it is a way to show them they are loved. Following them on a delivery for a video segment, we met a family that had two children sleeping on the couch in the living room and were so excited to be able to give them a bed with new sheets to sleep on. In the words of Ron, "It's a simple thing," but it means the world to those on the receiving end.
"We deliver about 200 beds a year, on average, here in Pickaway County," Ron shared. With 4-6 volunteers a week, and fairly little advertising and fundraising (most donations are from the volunteers), this is a great testament to what can be done when the heart leads. He added that "as an organization now [across the state] we are probably delivering 1500-2000 beds per year." 
The group can be found on Facebook under "The Bed Brigade" where they are very active in sharing what they are doing and how you can be a part of their mission; by 'liking' their page you can stay up to date. If you would like to learn how to build a bed they would be happy to teach you; if you would like to donate supplies or money to purchase lumber, mattresses or tools, or if you or someone you know is in need of a bed, they can be reached through their Facebook page on messenger, https://www.facebook.com/BedBrigade/ . Please remember The Bed Brigade cannot accept used mattresses, bed frames, sheets, or blankets.
Written and Contributed By: Shine A Light Promotions