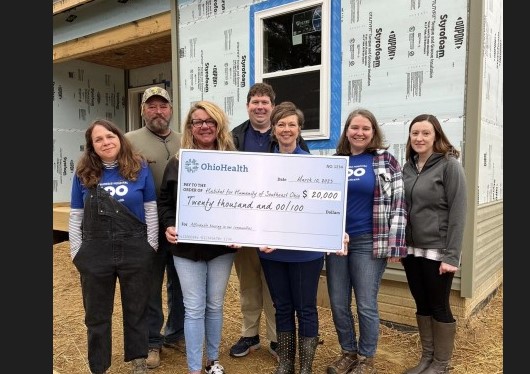 OhioHealth is honored to announce the continued partnership with Habitat for Humanity of Southeast Ohio, in supporting the plan to build two homes, Jacksonville (Athens County) and Carbon-Hill Buchtel Rd (Hocking County) for families in need while providing valuable, unique volunteer opportunities for OhioHealth staff and community members to participate in local builds.
"We are proud of our longtime relationship with Habitat for Humanity of Southeast Ohio and our current support of these two builds," said LeeAnn Lucas-Helber, president of OhioHealth O'Bleness Hospital. "We believe that affordable housing is fundamental to a community's health and wellbeing. We know that having a safe and stable place to call home is essential for families to thrive, and we are honored to play a part in making this happen for these deserving families."
As part of the pledge, OhioHealth staff signed 2 x 4's with well-wishes which will be included in the Jacksonville and Carbon Hill Buchtel builds, along with volunteering with the build.
"We are excited to partner with the businesses and communities in Athens and Hocking Counties for these local builds" says Kenneth Oehlers, Executive Director for Habitat for Humanity of Southeast Ohio. "We look forward to working with other non-profit agencies, community members, businesses, and neighborhoods to reduce substandard, blighted housing and provide decent, affordable homes for people in the community."
Habitat homes are built in partnership with families who have a need for housing and has a "hand up, not a hand out" model. Families purchase their home and pay a zero-interest mortgage back to Habitat. Habitat then uses those mortgage payments to build and repair more homes in Athens and Hocking Counties.
For more information on Habitat, to sign up to volunteer, or to donate online, visit habitatseo.org or contact Dawn Worley-Sims, Director of Community Engagement, 740-592-0032 ext. 102 or [email protected]@org.