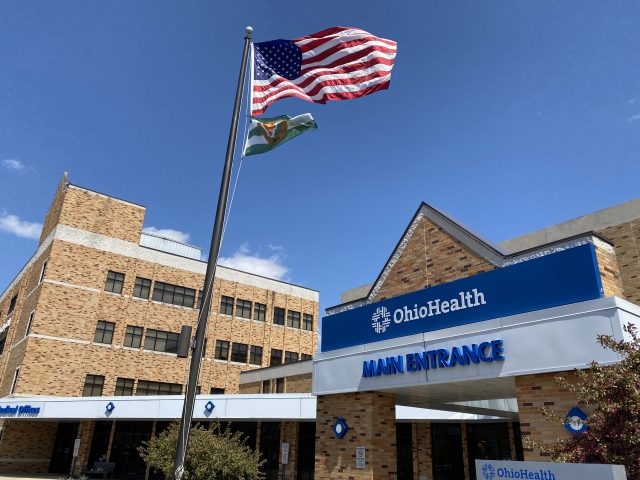 I hope this message finds you healthy and refreshed after the holiday season. The first week of 2022 was and continues to be especially challenging for us at OhioHealth Berger Hospital. Last week, the state of Ohio broke its daily hospitalization record every day. At Berger Hospital and across the OhioHealth system, our COVID-19 census has reached record highs.
Below is a brief breakdown of how this surge is impacting us:
• The care we're able to provide
To combat the need for more hospital beds and to ensure we have enough
staffing, we have limited surgeries requiring overnight stays and reduced our outpatient elective cases by 50%.
While this helps our immediate need, it delays care for non-covid patients.
We worry that people who need care, won't be able to receive it as quickly as normal.
Our staff and their health
As the new highly contagious variant Omicron, continues to spread, many of our associates are getting sick. This results in them having to quarantine and their coworkers are being stretched to cover their shifts.
As stated above, we have taken the necessary steps to limit services. We did this to redeploy clinical staff across the care site.
We are committed to caring for our community. However, I continue to worry about the toll this is taking on our team's mental and physical health.

The health of our community

Many members of our community area sick and dying from this disease.
Many immunocompromised individuals are suffering due to the continued spread.
We are working with the long-term care facilities, EMA, Police Departments, Fire Departments, Health Department, the Library, and many other community partners. These groups are also stretched and stressed by the virus.
Most recently, we have partnered with the OhioNationalGuard.They will be starting to help us at OhioHealth Berger Hospital this week. We are extremely thankful for their help in serving our community.
We desperately need our community's help. Below are a few actions for you to take:
If you are eligible, receive your full dose of the COVID-19 vaccine
If you are eligible, get your booster shot
Wash your hands frequently
Wear a mask and social distance
I know many are tired of these safety measures but our healthcare teams are struggling and exhausted; we need your help to contain this disease. These are simple actions that will save lives and will help our healthcare teams. The best way to combat this spread and keep people out of the hospital is through vaccines and boosters.
I wish everyone a safe and healthy 2022.
Tim A. Colburn
President
OhioHealth Berger Hospital
About OhioHealth
Based in Columbus, Ohio, OhioHealth is a nationally recognized, not-for-profit, charitable, healthcare outreach of the United Methodist Church.
Serving its communities since 1891, it is a family of 35,000 associates, physicians, and volunteers, and a network of 12 hospitals, 200+ ambulatory sites, hospice, home-health, medical equipment, and other health services spanning a 47-county area. It has been recognized by FORTUNE as one of the "100 Best Companies to Work For" 14 times since 2007.
OhioHealth hospitals include OhioHealth Riverside Methodist Hospital, OhioHealth Grant Medical Center, OhioHealth Doctors Hospital, OhioHealth Grady Memorial Hospital, OhioHealth Dublin Methodist Hospital, OhioHealth Hardin Memorial Hospital, OhioHealth Marion General Hospital, OhioHealth O'Bleness Hospital, OhioHealth Mansfield Hospital, OhioHealth Shelby Hospital, OhioHealth Grove City Methodist Hospital and OhioHealth Berger Hospital. For more information, please visit our website at www.ohiohealth.com