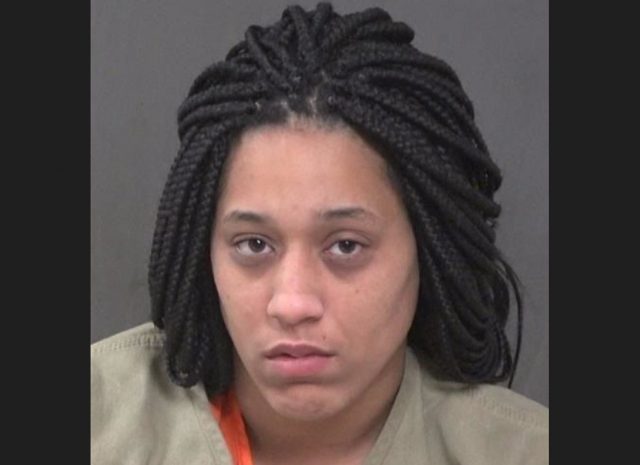 A Zanesville woman who killed a man during a drunken night of partying received her sentence of 10 to 13 years in prison Monday morning.
Pariss Dickinson previously pleaded guilty to one second-degree felony count of aggravated vehicular homicide, one third-degree felony count of failure to stop after an accident and one first-degree misdemeanor count of OVI in the death of 30-year-old Alex King.
Dickinson, 27, admitted to investigators that she was celebrating the night of King's death by drinking at home before drunkenly driving to a pair of Zanesville bars.
The defendant repeatedly made the decision to drive her car while intoxicated.
Those choices led Dickinson to a Putnam Avenue business where she threw up twice before getting kicked out by the bartender. In the parking lot, she can be seen on video falling out of the driver's seat, nearly getting run over by her own moving car.
Seemingly trying to stop Dickinson from driving away and putting herself and others at further risk of harm, King stood in front of the unoccupied vehicle, but Dickinson got back in the car, slammed on the gas and ran King over.
Dickinson continued into a neighboring yard where she stopped for just a moment before fleeing the scene.
King was left on the ground, fighting for his life. Law enforcement, firefighters, medical personnel and bar patrons arrived on scene within minutes, and despite their efforts, in addition to the efforts made by doctors at Genesis Hospital, King died hours later.
The young father left behind family and friends who loved him dearly, as expressed in their letters written to the court.
This was not the first time Dickinson committed a crime with a vehicle she was operating.
At the time of the incident, Dickinson was serving a community control sentence from a prior case involving allegations of felonious assault, burglary, criminal damaging, possession of criminal tools and child endangering.
Dickinson was indicted on those charges last year when she attempted to run over her on-again-off-again boyfriend's new girlfriend.
Due to a lack of cooperation from witnesses, those charges were reduced, resulting in probation.
"This case emphasizes how important the cooperation of witnesses is to our office's ability to protect the community. The decisions of the witnesses in this defendant's prior case resulted in her not being held fully accountable. This lack of cooperation resulted in a dangerous person avoiding prison and cost Mr. King his life," Prosecutor Ron Welch said.
This time, however, Dickinson will serve the maximum punishment possible for her offense of aggravated vehicular homicide, although no amount of justice can deliver full closure for King and his family.
Judge Mark Fleegle also ordered that Dickinson's driver's license be suspended for life.