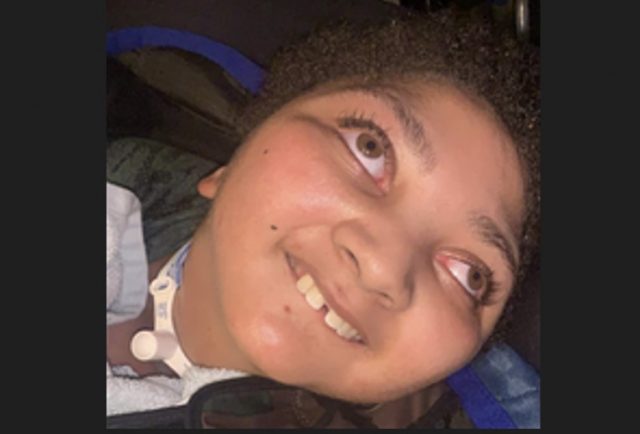 Collin Ross Kottenbrook spent sixteen years of life on this earth. On February 11th he left the loving arms of his parents Chas. III & Tracy (Baxter) Kottenbrook, surrounded by the love of his siblings Brenton, Addison, Bailey, Clay, Keagen and Dani all showering him with love at home. When those chains broke of an earthly body, Collin went to the arms of the Father in Heaven.
Waiting on Collin was his Big Brother Randy and with his swimming pool of gold water and we are sure visiting his mansion with an eye ball painted on the door was a first stop. We suspect that Collin's brother Noah had all the fun spots to show him where to run and jump in the meadows and touch all the beautiful things that are in heaven to explore with a body that is healed. The rejoicing, giggling and orneriness could only be topped off the smiles, dancing and orneriness of his foster sister Kaydee. Oh, what a party and rejoicing that is happening in Heaven. Daddy says Grandma Nina (Linda Kottenbrook) is there trying to care for them, um, let's be honest, boss them.
Collin was such a smart, ornery boy trapped in a body that physically limited every aspect of his functioning except his heart, it was so very strong and full of so much love. For those of us Blessed to be loved by Collin we knew those beautiful brown eyes and that soul. We will mourn here on earth until we are together again. Collin is the secret holder for so many of his tribe. He took a piece of all our hearts with all the secrets to Heaven.Collin loved his whole family but his Daddy was his absolute world. No words or eye blinks for yes and no were often needed between them. Their souls so in-tune it's hard to describe the love between them.
Mommy & Daddy both offered to go with Collin to Heaven. In fact, they couldn't agree on who got to go but God and Collin said NO to both. We have loved Collin for more than 15 years and that is longer than we have had the privilege of loving his siblings in Heaven.
Collin has family who love him Grandpa Chuck (Charles Kottenbrook JR), Grandpa Dan and Grandma Diana (Dan and Diana Baxter). Special Aunt Karea and Uncle Joe (Karea & Joe Swinning) and special cousins who picked the best sensory presents for Collin, Hilary and Seth Swinning. Many other Aunts, Uncles and cousins.
Collins Tribe who loved him Hard and supported us well are Megan Steinbrook, Gretchen Hoberty, Amanda Carroll, Dawn Snavely, Lisa Jarrell, Heather Crosier, Jane Farrar and Derek Meyers who promised his little Brother Collin he would take care of Dad and Mom. Collin blinked yes and gave him the biggest smile and stare down. I believe Collin will be watching.  A special Thank to Nationwide Children's Hospital Hospice Team. Anyone wishing to honor Collin's memory is asked to consider making a donation in Memory of Collin Kottenbrook to Nationwide Children's Hospital, Hospice Program "music and massage therapies". This is to help with items for massage and music therapies for use with the children in hospice care.