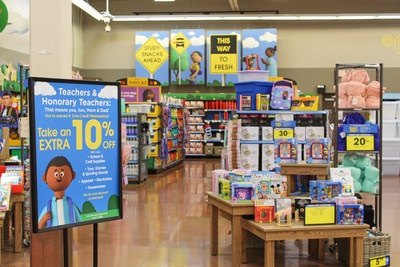 OHIO – Ohio will hold its annual Sales Tax Holiday beginning from Friday, August 6, 2021, until Sunday, August 8, 2021. Shopping during this weekend is a great way to save money when purchasing back-to-school items and clothing.
Here is a list of items that are tax-exempt:
Save on Clothing
To qualify, the clothing items must be priced at $75 or less (per article of clothing) and fall into the categories below. School clothes and uniforms are all tax-free during this time, but did you know that DIAPERS are too?
Shirts, Blouses & Sweaters
Jeans, Shorts & Pants
Skirts & Dresses
School Uniforms
Belts
Shoes, Sandals & Boots
Socks & Underwear
Bathing Suits
Coats, Jackets & Raincoats
Gloves & Ear Muffs
Diapers
School Supplies –
To qualify, the school supplies must be priced at $20 or less (per item) and fall into the categories below.
Binders
Book Bags & Backpacks
Calculators
Cellophane Tape
Blackboard Chalk
Compasses & Protractors
Composition Books
Crayons & Markers
Erasers
Folders (expandable, pocket, plastic & manila)
Glue, paste, and glue sticks
Highlighters
Index Cards & Index Card Boxes
Legal Pads & Writing Tablets
Lunch Boxes
Markers & Crayons
Notebooks
Paper (loose leaf ruled notebook paper, copy paper, graph paper, tracing paper, manila paper, colored paper, poster board, and construction paper)
Pencil Boxes & Other School Supply Boxes
Pencil Sharpeners
Pencils & Pens
Rulers
Scissors
School Instructional Material & Books
To qualify, the instructional material and books must be priced at $20 or less (per item) and fall into the categories below.
Reference Books
Reference Maps and Globes
Textbooks
Workbooks