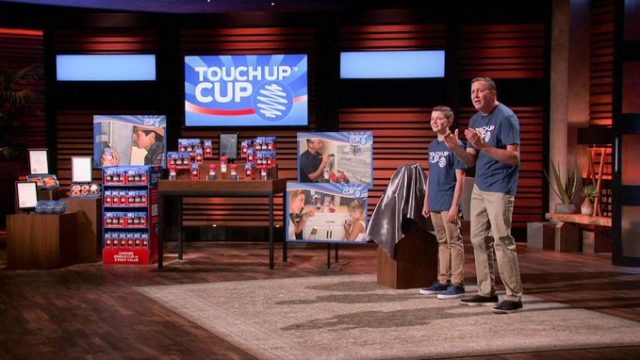 DAYTON – Dayton area Fenwick High School freshman Carson Grill and his father who are co owners of the invention received 150,000 dollars from one of the "Sharks" in ABC show Sharks tank this week.
The invention called the touch up cup keeps paint from becoming clumpy and keeps it fresh for up to 10 years was pitched by mostly the son of the parent/son owners and sealed the deal with the sharks.
During the show the son 14 year old Carson Grill asked for 150,000 dollar investment for 10% of the company. A fight amongst two sharks ensued, Blake Mycoskie of TOMS Shoes offered $200,000 for 25% of the company, and Daymond John offered $150,000 for 17.5% of the company.
"Normally on Shark Tank when you bring in your son, usually the father gives the pitch, and the son does a little demo, and then off they go because things are going to get tough in the tank," said shark Kevin O'Leary to the pair. "So far, Carson's doing all the talking, you're not saying anything.
 "You know what, I have all faith in him," Jason said.