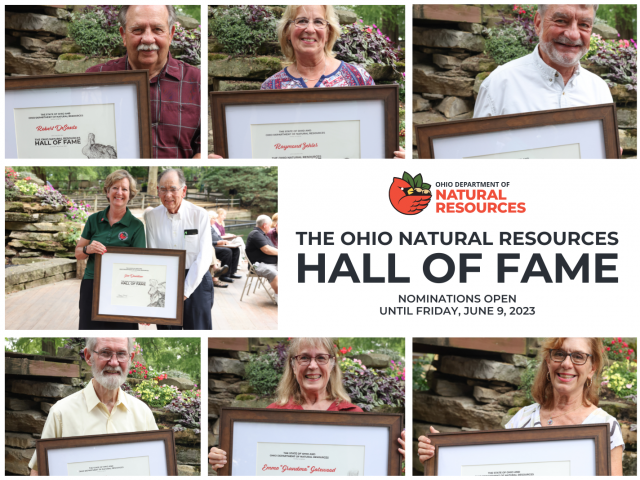 COLUMBUS, Ohio – The Ohio Department of Natural Resources (ODNR) is now accepting nominations for the 2023 Ohio Natural Resources Hall of Fame.
 
For more than 50 years, the Ohio Natural Resources Hall of Fame has been the state's top honor for individuals – past and present – who have made significant contributions to preserving and protecting the state's water, soil, woodlands, wildlife and mineral resources. Honorees have demonstrated a commitment to conservation and improving the quality of life in Ohio.
 
 
"Preserving and protecting Ohio's valuable natural resources is a task that requires everyone to pitch in, not just the staff at ODNR," said ODNR Director Mary Mertz. "We're honored to celebrate the Ohioans who've committed their lives to safeguarding the state's natural beauty for generations to come."
 
The Ohio Natural Resources Hall of Fame has proudly honored 186 Ohioans since its establishment in 1966, including John Chapman (Johnny Appleseed); explorer John Wesley Powell; conservationist and Pulitzer Prize-winning novelist Louis Bromfield; pioneering botanist Lucy Braun; and farming conservation advocate Bob Evans.
 
Last year's recipients included an American hiking pioneer, a champion for urban wetlands, and a lifelong volunteer naturalist, among others. Learn more about their work here.
 
To be considered for induction, nominees must have been born in Ohio or made a significant contribution to the conservation of natural resources in the state.
 
For more information on selection criteria and to request a mailed nomination form, email Jordan Conner. Online and mail-in nominations must be received by Friday, June 9, 2023.
 
Click here to access the online nomination form.
 
Nominations submitted by mail should be sent to ODNR Special Projects, 2045 Morse Road, Building D-3, Columbus, OH 43229, Attn: Hall of Fame. 
 
Hall of Fame inductees, along with Cardinal Award winners, will be announced on opening day of the Ohio State Fair. Cardinal Award winners are nominated by ODNR employees for their commitment to the department's mission.
 
Click here to learn more about the Ohio Natural Resources Hall of Fame, including a list of inductees.