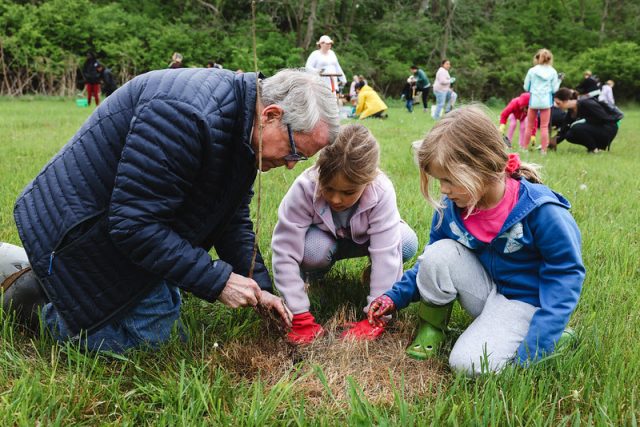 COLUMBUS, Ohio – The Ohio Department of Natural Resources (ODNR) teamed up with Girl Scouts from around Ohio to plant hundreds of trees for Arbor Day. Ohio Governor Mike DeWine and ODNR Director Mary Mertz joined other volunteers to plant 1,000 seedlings along the scenic Little Darby Creek in West Jefferson.
 

"Teaching children about the importance of conservation at a young age can establish a love of the outdoors that can last a lifetime," Governor DeWine said. "Today's partnership shines a light on two of Ohio's most precious resources, our children and our trees."

Saturday's event at Little Darby State and National Scenic River capped a series of ODNR tree plantings held around the state during the month of April. It's part of ODNR's commitment to the Girl Scout Tree Promise, a national initiative to plant 5 million trees in five years. ODNR has committed to providing resources for local Girl Scout councils to plant 250,000 trees in Ohio by 2026.


Girl Scouts and ODNR also planted trees at the Maumee State Forest in Swanton on Saturday (not pictured).

In April, ODNR partnered with Girl Scouts of Ohio's Heartland, Girl Scouts of Black Diamond, Girl Scouts of Western Ohio, and Girl Scouts of North East Ohio to plant a total of 44,208 trees in St. Clairsville, Rockbridge, Green Springs, and Zanesville, along with the two Saturday events in West Jefferson and Swanton.
 
"These events have been beneficial not only to the Girl Scouts, but to their communities, and to ODNR," Director Mertz said. "I hope they've learned about the conservation work being done, why we do it, and had fun putting their own marks on Ohio's beautiful landscape."
 
For this planting, Governor DeWine and ODNR were joined by President and CEO of the Girl Scouts of the USA, Bonnie Barczykowski.
 
"Girl Scouts is grateful to our partners at Ohio Department of Natural Resources for their continuous support of our outdoor programs," President and CEO Girl Scouts of the USA Bonnie Barczykowski said. "From hosting statewide events during Girl Scouts Love State Parks weekend to now committing to plant 250,000 trees toward our Girl Scout Tree Promise initiative, ODNR has been a longtime and committed partner to Girl Scouts in our shared values of environmental stewardship and climate action."
 
The Big and Little Darby Creek system has earned national recognition as a scenic river and is one of the highest quality streams in the state. The newly planted trees along the river will help the area return to its natural condition as a forested floodplain. Keeping stream corridors wooded is crucial in protecting the health of the Little Darby as it provides the habitat needed to protect the stream from run-off and provide native plants and wildlife with a healthy ecosystem.