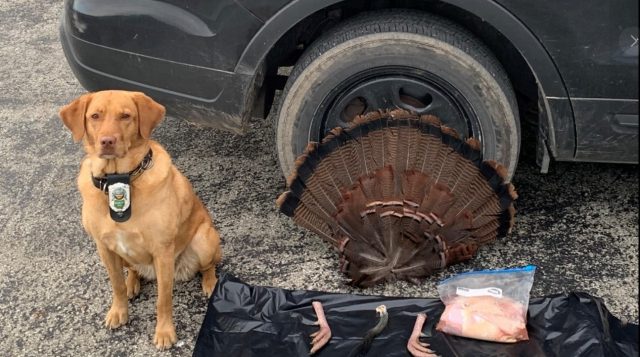 OHIO – Ohio division of wildlife is talking about how much the K9 units help them in catching potchers by highlighting an incident that happened last year.
According to ODNR during the 2021 spring wild turkey hunting season, State Wildlife Officer Jason Keller, assigned to Warren County, and State Wildlife Officer Gus Kiebel, assigned to Adams County, responded to a landowner's complaint of someone killing a wild turkey on his property.
Officers met with the landowner, who showed them the general area where the shot came from. Officer Keller deployed K-9 Scout, and she quickly found piles of wild turkey feathers, a shotgun wad, and a shotgun hull. Officers Keller and Kiebel drove around the area attempting to locate a suspect. Officer Keller came across an individual butchering a turkey not far from the original incident.
 Further investigation revealed the individual was hunting near where the incident occurred. He heard turkeys gobbling so he snuck over to the adjacent field and shot the turkey. The turkey parts were seized, and the individual was issued two summonses in Hillsboro Municipal Court.
The individual pleaded guilty to both charges and paid $450 in fines and court costs. The turkey parts were forfeited and are now used by K-9 Scout as training aids.