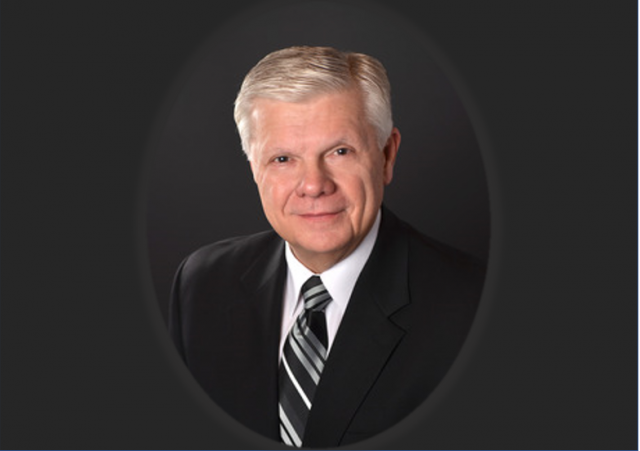 Bethany Oklahoma – Dr. Stan Toler, pastor, author, leadership expert, General Superintendent Emeritus, and devoted family man, passed from this earthly life, to life eternal with his Lord and Savior on November 18, 2017. Stanley Aaron Toler was born November 7, 1950 in Welch, West Virginia, a coal-mining community that was, at that time, the poorest area in the United States.  His father, William Aaron Toler, worked in the coal mines, but, seeking a better life for his family, relocated to Columbus, Ohio and found work in construction. When Stan was just eleven years of age his father was tragically killed in a workplace accident, and Stan felt a deep sense of responsibility to be a family leader for his mother and two younger brothers.  This experience shaped his life and influenced his teaching and writing over the years, especially in the areas of positive thinking and striving for excellence in life, as well as in the Church.
Toler's call to preach came at a very early age and, encouraged by his pastor, he preached his first sermon in his home church at age 14. By age 17 he was pastor of a local church and went on to earn multiple degrees in higher education, saw growth and success as a pastor and church planter, served as an executive for John Maxwell's INJOY Ministries, and established a worldwide reputation for excellence in leadership training. In 2009 he was elected General Superintendent of the Church of the Nazarene and served in that capacity until 2013 when he was honored with general superintendent emeritus status.
Over the span of fifty-three years in ministry, Toler preached nearly 15,000 sermons, speaking to over 200 denominations and church groups in all 50 states of the U.S. and in 80 countries around the world; flew over six million miles and traveled an untold number of miles by every other conveyance available. He preached with clarity and urgency, calling people to respond to the Gospel.
Stan Toler has written over 100 books, including his best-sellers, The Power of Your Attitude; The Secret Blend; The Relational Leader; Practical Guide to Pastoral Ministry; his popular Minute Motivator series; Outstanding Leadership; and his newest release, I've Never Been This Old Before – The Dawn of the Middle Ages. His books have sold over 3 million copies and leave a legacy of inspiration, encouragement and influence for generations to come. In addition to his writing he loved gospel music and recorded multiple projects through the years, most recently with his brothers Terry and Mark (He Still Speaks/West Virginia LIVE), performing across the USA as the Toler Brothers.
Dr. Stan Toler is survived by his mother, Loretta, and cherished step-father, Jack Hollingsworth; his wife of 44 years, Linda, and two married sons, Seth (Marcy) and Adam (Amanda); his five beloved grandchildren: Rhett, Davis, Wren, Clara Jane and Bennett; who called him 'Pookie' and loved him deeply.  Also surviving are his dear brothers, Dr. Terry N. Toler (Sue), Dr. Mark Hollingsworth (Mary) and their families.
A Celebration of Life service will be held Friday, December 8, 2017 at 2:00 p.m. at Bethany First Church of the Nazarene, 6789 NW 39th Expressway, Bethany, OK 73008.
In lieu of flowers and to perpetuate resourcing of church leaders and pastors around the world, the family suggests honoring Stan's memory with a donation, or sending an expression of sympathy, to his non-profit ministry, Toler Leadership International, P.O. Box 720230, Oklahoma City, Oklahoma 73172.
In a memo from Ohio Christian University, President John Kulaga said:
"It is with deep sadness to share with you that Dr. Stan Toler passed away Saturday evening, November 18, 2017, surrounded by his loving family.  Linda and the entire family are grateful for your prayers, encouragement and love during Stan's illness and home going.  Information on a celebration service will be forthcoming.
Messages to the family can be addressed to Stan's assistant Margaret: [email protected] or mailed to Toler Leadership, P. O. Box 720230, Oklahoma City, OK  73172.
Stan was loved by so many here at the University and leaves a quiet spirit among us today. Please keep his family and loved ones in your prayers during this time. In 2015, Stan developed and established The Toler Leadership Institute at Ohio Christian University where he was an alumnus.  His legacy will continue to impact the world through that ministry for many more generations."
For more information on Dr. Toler's work in Pickaway County, please visit the Toler Leadership Institute online via Ohio Christian University.