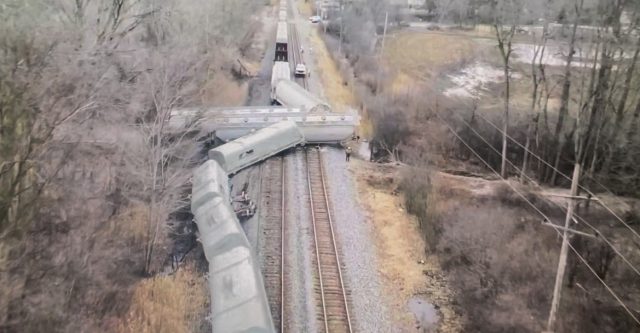 Michigan – Another train has derailed in Van Buren Township Michigan earlier today.
According to the Van Buren Township health department, on Thursday, February 16th at approximately 8:30 a.m, Van Buren Police and Fire Departments responded to a train derailment including approximately 30 Northfolk Southern Railroad cars, located between Martinsville & Haggerty roads, south of Huron River Drive.
Of the overturned rail cars, one contained agricultural grain. The other remaining cars were empty. The involved train had one railcar that contained liquid chlorine; however it was located away from the overturned section, and was part of the section of railcars removed first. There is no evidence of exposed hazardous materials. There are also no reported injuries.Federal Emergency Management Agency (FEMA),
Michigan Department of Environment, Great Lakes, and Energy (EGLE), and Wayne County Homeland Security have all been notified of the incident, and will continue to coordinate with Van Buren Public Safety and local officials.
The investigation is active and ongoing. Updates will be made to the public via NIXLE and social media as they become available.