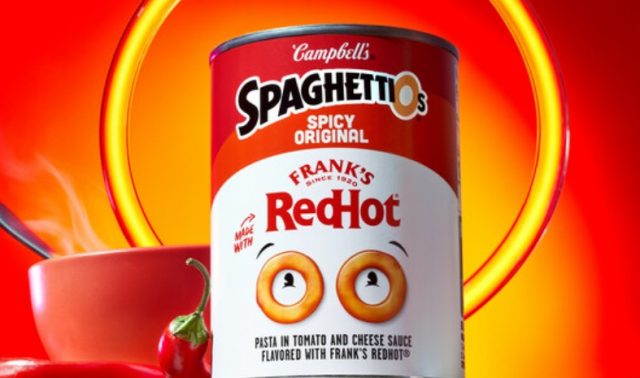 America's iconic o-shaped pasta is turning up the heat! Today, SpaghettiOs® announces new Spicy Original made with Frank's RedHot®. Featuring the distinct flavor of the #1 hot sauce in the world*, SpaghettiOs Spicy Original packs a mild-medium heat level that meets growing consumer demand for spicy food.  
The new flavor continues a shift in the brand's focus to cater to millennials who grew up with the brand and now make up over one-third of SpaghettiOs total annual sales. In a recent survey of adults (18-35) who ate SpaghettiOs in the past year, almost half report eating the canned pasta at least once a week.** Also, more than one-third (35%) of respondents mentioned adding spice to the canned pasta to satisfy their 'grown-up' palates.
"SpaghettiOs and Frank's RedHot each have an undeniable fandom," said Mieka Burns, Vice President of Meals & Sauces, Campbell Soup Company. "Through this collaboration, we're excited to put a hot, more mature twist on a classic offering that our adult consumers grew up enjoying."
New SpaghettiOs Spicy Original is available at retailers nationwide for an SRP $1.59. For more information on SpaghettiOs, and for the latest product news, visit SpaghettiOs.com.