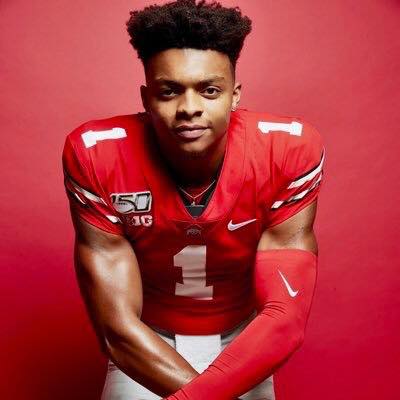 Photo credit: Justin Fields (Twitter)
Justin Fields, 6'3″, 225lbs, 20 year old from Atlanta Georgia.
Fields attended Harrison High School in Kennesaw, Georgia. As a starter at Harrison for 2 years, Fields totaled 4,187 passing yards, 2,096 rushing yards, 41 touchdowns and 28 rushing touchdowns. After his senior season, Fields was named Mr. Georgia Football by the Touchdown Club of Atlanta, as well as first-team all-state. In addition to football, Fields was also a standout baseball player for Harrison High.
In October of 2017, Fields committed to the University of Georgia to play college football.
During Field's true freshman year season at Georgia in 2018, he served as a backup quarterback to Jake Fromm, Fields seen action in 12 games during the 2018 season, totaling 328 passing yards, 266 rushing yards, 4 passing touchdowns and 4 rushing touchdowns.
Field announced his intent to transfer following Georgia's loss to Alabama in the 2018 SEC Championship Game. In January of 2019, Fields announced his transfer to Ohio State.
Fields, who would normally be required to sit out for one year due to NCAA transfer rules, sought a waiver to be able to play immediately for Ohio State. Fields attorney was able to secure immediate eligibility arguing that Fields should be eligible due to an NCAA guideline that waives the waiting period for athletes with "documented mitigating circumstances that are outside the student-athlete's control and directly impact the health, safety and well-being of the student-athlete." Due to Fields having an encounter at Georgia in which a Bulldogs baseball player used a racial slur against Fields, this was believed to be the main incident constituting Fields' claim of "mitigating circumstances". Which allowed him to secure his eligibility for Ohio State's 2019-2020 football season
Justin Fields had a great first half for his first college start at Ohio State today.  221 total yards,  3 passing touchdowns, 37 yards rushing and 1 rushing touchdown with a 28-3 halftime lead.