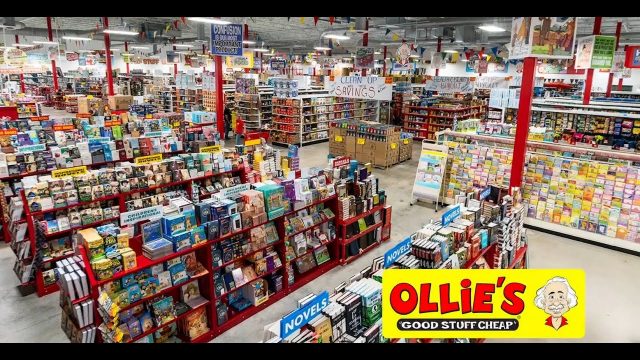 Washington Court House – A new retailer is coming to Washington Court houses Northside this year Ollie's Bargain Outlet.
According to the City of WCH Economic development, a lease was signed just recently to rent the building after a study suggested that the retail outlet would be a good fit in the area.
"Ollie's will be adding 40+ jobs to the local economy and leasing 42,000 square feet of retail space," said the economic development team.
Joe Denen, City Manager for Washington Court House adds, "Our goal is a broad range of retail, service and dining options that give people the opportunity to stay local. I think Ollie's will do well and we are happy to welcome Ollie's investment."
Ollies will occupy the former Pat Catan building located at 300 Washington Sq in Washington Courthouse.
In February 2016, the locally founded, family-run crafts and decor retailer, was acquired by Michaels Companies Inc. for $150 million. The building was closed in 2019 after Michaels bought Pat Catan's chain. Michaels reopened only 12 of the stores after the buyout.
A opening date has not yet been posted we will keep you updated when that happens.
Ollie's Bargain Outlet, Inc., founded in 1982, is one of America's largest retailers of closeouts and excess inventory, offering real brands at real bargain prices. Famous for its signature catch-phrase "Good Stuff Cheap", Ollie's has a huge selection of famous brand name merchandise in every department – food, books, housewares, toys, electronics, domestics, clothing, furniture, health and beauty products, flooring, seasonal items, pet supplies, and so much more – at up to 70 percent off the fancy stores' prices. You never know what you'll find at one of Ollie's 430 "semi-lovely" stores and growing in Alabama, Arkansas, Connecticut, Delaware, Florida, Georgia, Illinois, Indiana, Kansas, Kentucky, Louisiana, Maryland, Massachusetts, Michigan, Mississippi, Missouri, New Jersey, New York, North Carolina, Ohio, Oklahoma, Pennsylvania, Rhode Island, South Carolina, Tennessee, Texas, Vermont, Virginia and West Virginia. For more information, visit www.ollies.us. Like us on Facebook or find us on Twitter at @OlliesOutlet. Ollie's Bargain Outlet Holdings is a publicly traded company on NASDAQ under the ticker symbol OLLI.