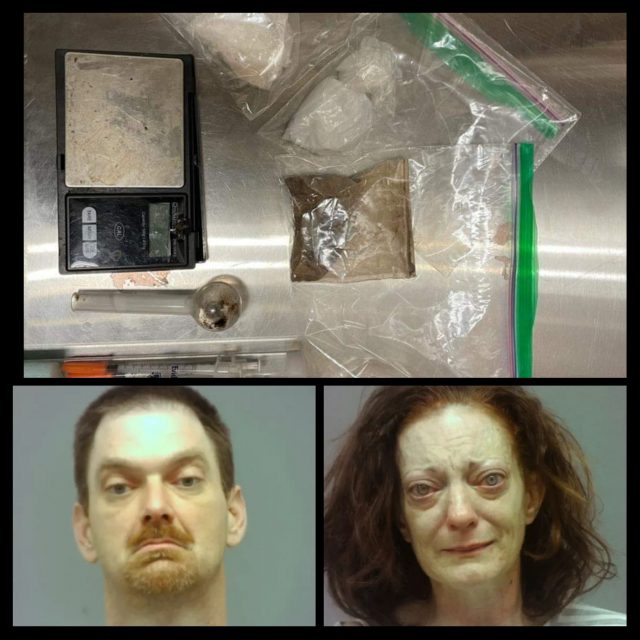 Nelsonville OH- During the mid-morning hours on Tuesday April 27, 2021 NPD Officer Jones performed a traffic stop on a vehicle that was following to close to another vehicle. Officer Jones approached the vehicle and spoke to the driver, Robert Rodehaver who admitted to following the other vehicle to closely. Due to criminal indicators that were observed during the traffic stop, K9 Attila was released to perform a free air sniff of the vehicle to which Attila positively indicated on the driver's side door.
The two occupants: Robert Rodehaver and Jennifer Saunders-Blackburn were read their Miranda Rights and detained. A search of the vehicle was then completed and revealed approximately 16 grams of Methamphetamine, 16 grams of Fentanyl (which is enough to kill approximately half of the population in the City of Nelsonville), 16 grams of Heroin, along with multiple syringes that were found under the dash. Digital Scales were located in the purse belonging to Jennifer Saunders-Blackburn. Both Rodehaver and Saunders-Blackburn were charged with Trafficking in Methamphetamine (F2), Trafficking in Heroin (F4), Trafficking in Fentanyl (F2), Possession of Methamphetamine (F2), Possession of Heroin (F4) and Possession of Fentanyl (F2).
Robert Rodehaver and Jennifer Saunders-Blackburn were both transported to the Southeastern Ohio Regional Jail.
A local towing company was requested to the scene and the vehicle was towed.
A male puppy that was said to be a stray by Rodehaver and Saunders-Blackburn that was inside the vehicle at the time of the stop, was turned over to the Athens County Dog Warden. The puppy will be up for adoption soon.
The case file was turned over to Keller Blackburn at the Athens County Prosecutors Office.