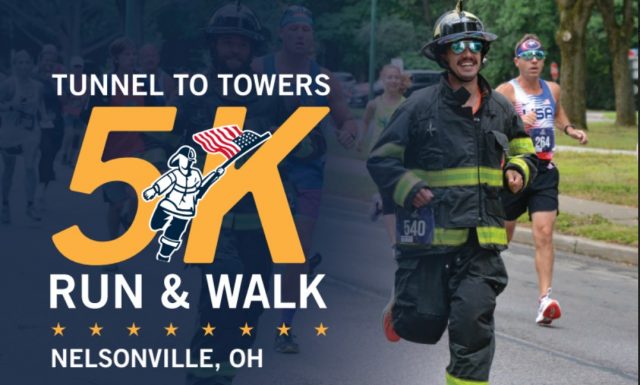 Nelsonville – The second annual 5K event, "Tunnel to Towers" to be held in Nelsonville will take place at the Historical Public Square on April 30, 2023, at 9 am.
Participants in this event, many wearing firefighting gear, police uniforms, and military uniforms, will travel from the Nelsonville Historical Public
Square through the scenic streets of Nelsonville ending back at the Public Square. The route includes banners of hometown heroes along the streets near the Public Square and passes by the American Legion Military Museum. Each participant will wear a lanyard honoring Nelsonville Division of Fire Senior Firefighter Jeff Armes, who lost his life in the line of duty in 2021. The event will honor our local fallen first responders along with everyone who lost their lives during 9/11.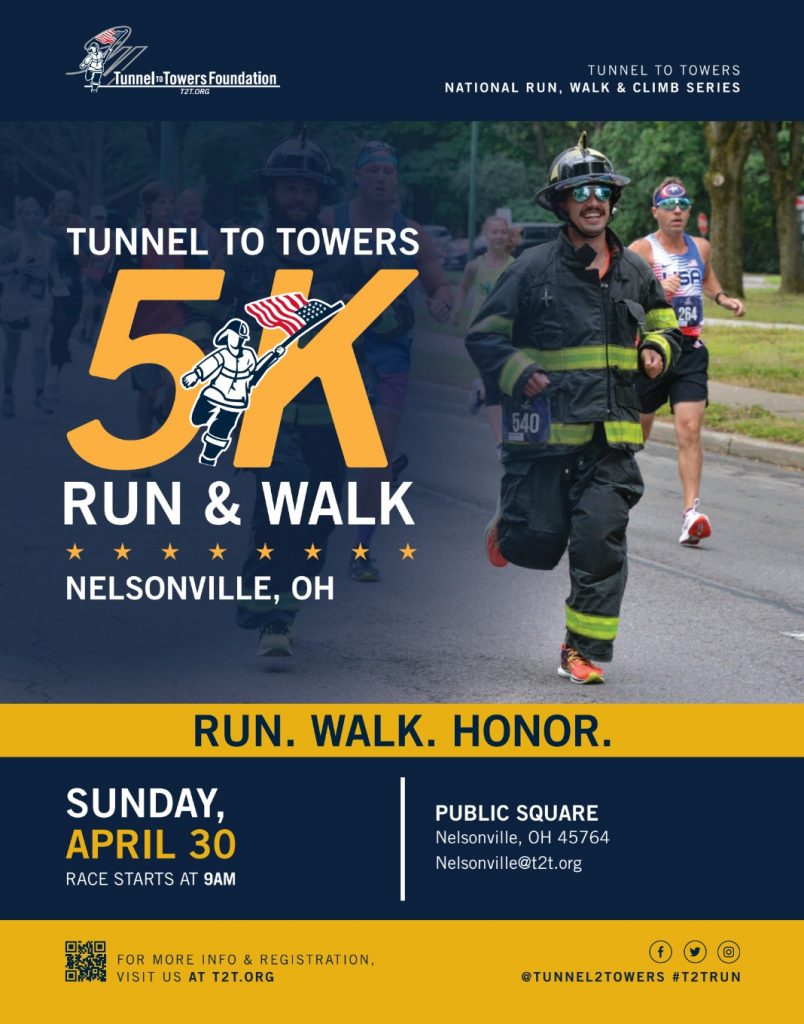 The annual Tunnel to Towers 5K Run/Walk honors our nation's first responders and military while remembering all who died on 9/11/01. There are those who have died since, from 9/11 related illness, and over 7,000 military who have sacrificed their lives while protecting our freedom. We retrace the steps of FDNY Firefighter Stephen Siller, who, on the morning of 9/11, strapped on 60 pounds of firefighting gear and ran through the Brooklyn Battery Tunnel to the World Trade Center, where he lost his life. Tunnel to Towers has over 80 events in the 5k Run and Climb event Nationwide and the foundation has three goals: Honor local first responders, remember 9/11 and raise funds to build smart homes for the most catastrophically injured service members. You can expect to see firefighters, police officers, and military running the 5K in uniform along with hundreds of other walkers and runners.

The Tunnel to Towers Foundation supports our military and first responders, and their families, through programs that build custom smart-tech homes for severely injured military services and first responders,
mortgage-free homes to Gold Star families, and paying the mortgages of first responders who leave behind young children. In Ohio, three smart homes have been constructed for severely injured military
service members, 17 mortgages paid for fallen first responders, and 4 Gold Star families have received mortgage-free homes.

Event will be held on April 30, 2023 at 9:00am with registration starting at 8:00am. To register go to www.t2trun.org and click on Nelsonville, Ohio run. For Foundation information: www.t2t.org

Contact: Lezlee Armes, Volunteer Race Director for Nelsonville 5K [email protected] or 740-603-8525