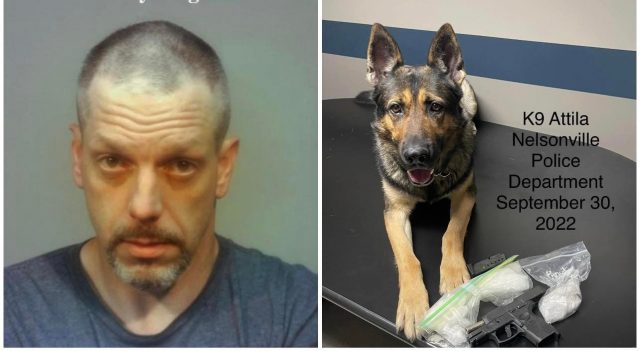 On the evening of September 30, 2022, NPD Officers were working an illegal drug interdiction detail in an attempt to locate and seize illegal drugs coming into or through the area.
At approximately 9:41pm NPD K9 Officer Troy Smith and K9 Attila observed a vehicle operating on US 33 eastbound committing a traffic violation. Officer Smith activated his overhead emergency lights and stopped the vehicle. Officer Smith deployed K9 Attila, who positively indicated on the driver side of the stopped vehicle.

Based off Attila's reaction to the free air sniff of the vehicle, the driver of the vehicle was detained and Officer Cody Gilbraith, and Officer Ben Adams, which had also responded to the scene of the traffic stop for assistance, along with Officer Smith searched the interior of the vehicle.
The search revealed over a half-pound of Methamphetamine being located and seized, along with a handgun.
Officers transported 44-year old Rodney Singleton to the Southeastern Ohio Regional Jail on Charges of Aggravated Possession of Drugs and Weapons Under Disability.
A local towing company was requested to the scene and the vehicle was towed.
Chief Scott Fitch stated that this is yet one more example of the benefits of having motivated and well-trained Officers in drug detection techniques as well as a successful K9 program. We will continue to target all drug traffickers, drug mules, and do everything within our power to make Nelsonville and the surrounding area a much safer community. Let this serve as a warning to all drug dealers in Nelsonville, you are not wanted in our city and community. Either stop poisoning our community with drugs or you will be caught and sent to prison. The Nelsonville Police Department has teamed up with other area law enforcement agencies and are determined to combat all illegal drug activity in our area.