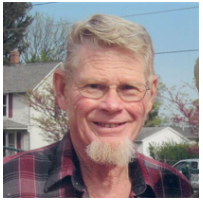 Ned Noble, age 74, passed away peacefully at his home in the presence of his loving family on October 31st, 2017. He was born March 17, 1943 in Tarlton, Ohio to his parents Adrian Noble and Mary May Julian. He married his wife Cheryl "Sherry" (Peters) Noble on February 12, 1971, and they shared 46 years of wonderful marriage. Ned enjoyed his work at Lancaster Glass, were he had retired from after 15 years of service. He was also a member of The Knights of Pythias for about 10 to 15 years. Ned was hardworking, loved his family and always wanted people to smile. He will be truly missed by those who knew him.
Ned is preceded in death by his parents; his mother and father in law Irma and Gene, and his brother in law Jim. Left to mourn his passing is his wife Sherry Noble; his children Matthew (Tina) Noble and Crystal (Chris) Hart; his grandchildren Tressa, Chelsea, Tyler, Ashlyn, Nicolas and Kyler; his niece Scandy; his nephews Daniel and Zach; good friends Ray (Connie) McDonald and his sister in law Gracie Noble; his special friends Carly the dog and Scrappy the cat; as well as 2 brothers and a sister; and many friends. The family would like to give special thanks to the Clearcreek Fire and EMS team, Berger Hospice, And Cassandra, Colleen, and Teresa from Constance Care.
Ned's Funeral Service will be held on Saturday, November 4th at 10:30am at Defenbaugh-Wise-Schoedinger Funeral Home, 151 East main Street Circleville, with Chaplain Jim Ferrell officiating. Burial will follow at Maple Hill Cemetery. Visitation will be held Friday the 3rd from 4 to 8pm. In lieu of flowers, donations may be made to Ned's family to help offset funeral expenses.