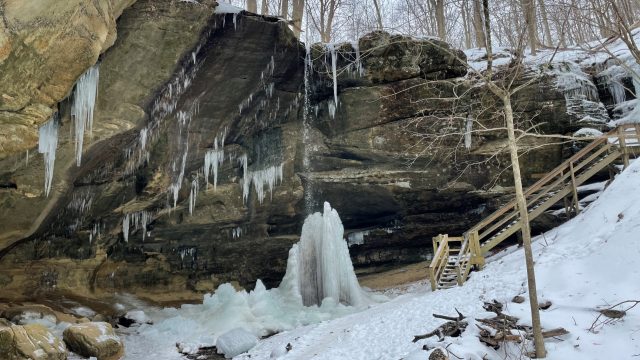 Hocking County – Hocking Hills a state park closed to visitors last week due to unsafe conditions
Just after noon, on 2/12/22, a 911 call came into the Hocking sheriff's department of a man who had fallen into the cavern. When Hocking's first responders arrived on the scene they decided the safest way to get the man out of the 100-foot drop was a rope rescue.
According to the reports, the man fell 20 feet, and then slid another 40 feet, from a very icy trail. He was assisted back to the trail with a multi-agency rope rescue from ODNR, Laurelville Fire department, and Hocking EMS.
Since then the park district had made the decision to close the parks due to the icy conditions. Now most of those trails are open, due to warm weather and rain over the last few days.
Trails that were still closed that are reopened are: the trails at Conkle's Hollow State Nature Preserve as well as Cedar Falls, Rock House, and Ash Cave in Hocking Hills State Park.
The only trails/areas remaining closed at this time are:• Cantwell Cliffs (all areas closed)• Old Man's Cave (trails to the cave and along the gorge from Upper Falls to Cedar Falls remain closed)• Whispering Cave (part of Old Man's Cave)• The Rim Trail from Cedar Falls to Rose Lake• The fisherman's parking lot will also remain closed
If you intend to hike in the region, we urge CAUTION as some trails may still be slippery and Yaxtrax or ice spikes are STRONGLY recommended. Stay safe!