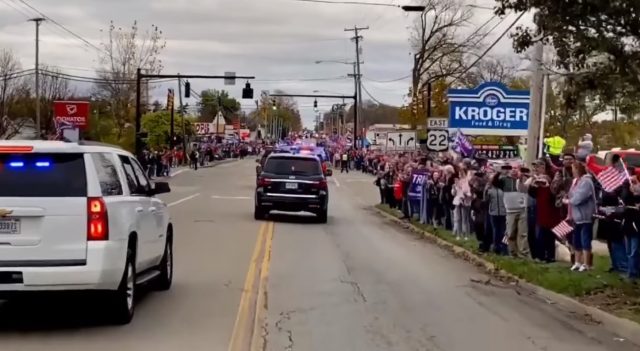 CIRCLEVILLE – An altercation between two opposing party supporters was one of the only issues at the Trump Rally that brought over 15,000 people into Circleville, and according to the report both parties were local.
According to a report from Circleville Police department around 5:37 pm on October 24 an unidentified male was walking from his home on the East side of Circleville to the Trump rally area when he said he was taunted by local protesters led by a Pickaway Progressives group. He stated that he was trying to get away from them and defend himself.
A video posted by Zack Brooks that has now been taken offline shows part of the altercation. In the video, both parties, the single man, and at least five protesters continue to argue back and forth with obscenities. The man is seen on the video spitting towards the protesters and flicking a cigarette at them. The altercation cumulates when one of the protesters spits back at the man and he approaches the small crowd of protesters and swings his fist in an aggressive manner towards a woman Immediately police were called and you can see several Pickaway sheriff officers in the video at the end of the short video.
The woman claims that she was hit in the face by the man but did not request to be checked out by emergency personnel, but did want to press charges.
The man claims he did not hit anyone but wanted to get away from the group that was actively trying to taunt him into fighting.
Currently, no charges have been filed against either party. The video of the altercation has been placed into evidence and forwarded to the Law Directors' office for possible charges.