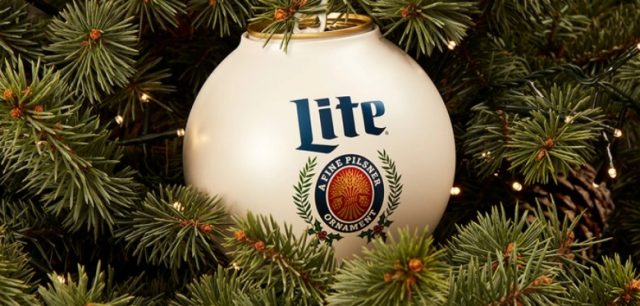 US – Add Drinkable Beer Christmas ornaments to something you think you would never see or utter during Christmas but here it is thanks to Miller Lite.
Miller Lite has introduced "Beeraments" ornaments that adorn your Christmas Tree and hold 8 ounces of real Miller lite beer.
The ornaments are made in the classic spherical shape and bearing the Miller Lite logo, come apart so you can slide a small can of beer inside.
"Simply assemble the Beernament and a group of friends to instantly transform Christmas time into Miller Time. Crack, drink, and hang while you hang," the website states.
"We know that people are looking forward to more intimate holiday celebrations this year, which means more Miller Time with close friends and loved ones," said Sofia Colucci, global VP of Miller family of brands, in a press release. "Our Beernaments are not only hilarious, but a great way to keep the holidays bright for beer lovers everywhere, from drinks to décor."<
Miller Lite's Beernaments went on sale at 3 p.m. Dec. 7 on their official website, Beernaments.com. A 6-pack sells for $19.75, sadly they are currently sold out but will be restocking on December 9th.