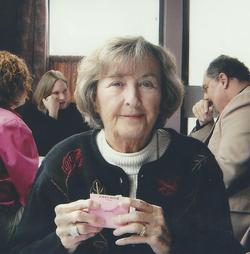 Martha Jane Kline Peters, 91, passed from this earth peacefully at home on Friday, September 8, 2017 with her family around her.  She was born August 19, 1926 to parents David and Stella (Murphy) Kline in Ross County.  She is preceded in death by infant brother Charles and brothers George, Richard and John Kline and sisters Katherine "Sis" Clark and Matilda Peck Thomas, sisters-in-laws Iona Kline, Barbara Peters Schraeder Milliken, brothers-in-laws Richard Hill, William Hoffman, Robert Peck, Donald Clark, son-in-law Ralph Lake, grandson in law Matthew Hogue.
Martha is survived by her devoted and loving husband and caregiver James "Jim" E. Peters of 68 years, her twin sister Mary Kline Hoffman, her son Edwin D. (Patricia "Benny" Luna ) Peters, daughters Cheri M. Lake and Cinda A. (Eric) Pontious, grandchildren Kate Peters  (Brian) Sumption, Ashley Peters Writsel, Creigh Peters, Jonathan "JJ" ( Fiona-Lee Gerrard), Lake, Lindsay Lake (Bryan) Hawkins, Kaleigh Lake (Sam) Pierson, Brandon (Meagan Doan) Pontious, Brittany Pontious-Hogue, great grandchildren Jakob and Stella Sumption, Ashton and Peyton Writsel, Harrison Hogue, sister in laws Pat Kline, Patricia Hill, Dorothy Peters(Ron) McPherson, Phillis Peters (Jay) Jennings, numerous nieces, nephews, great and great great nieces and nephews.  Martha graduated from Kingston High School in 1943.
Seventy-one years ago she met Jim on his motorcycle at the town pump in Yellowbud and they were married in Covington KY on June 26, 1949 and honeymooned in The Smokey Mountains.  She was a devoted wife and loving mother, grandmother and great grandmother.  She served as secretary for the family contracting business in its early years.  She was a real estate agent for several years in the 1970's and 80's.  Martha was a long standing and devoted member of Trinity Lutheran Church and Martha Circle.  She was a collector of antiques especially cut glass.  She enjoyed entering floral arrangements and pumpkin pies in the Circleville Pumpkin Show and was a blue ribbon and other ribbon winner multiple times, former member of Goodtime Quilters, Garden Club, Lions Club ladies auxiliary.
She was a devoted wife and loving mother of her children, grandchildren and great grandchildren.  She was soft spoken but strong.  For many years as the matriarch, she loved preparing holiday meals for all of the family to enjoy gathered in her home.  She liked going to Bluegrass Festivals with Jim and their friends and boating and time spent with family especially the grandchildren at sylvan pool and Rocky Fork Lake cottage and taking the grandchildren to the Ohio State Fair each summer.
She enjoyed riding her bicycle into her late 70's and she also loved going to breakfast at Bob Evans every morning for 30 years and made a lot of good friends there.  Martha always enjoyed celebrating her birthday with her twin sister Mary every year with our large extended families and friends.  They celebrated their 91st birthday together just a few weeks ago.  In lieu of flowers donations can be made to Trinity Lutheran Church, Heartland Hospice or a charity of choice.
hanks to the support and helpful kind caregiving from all of the Heartland Hospice nurses and nurse aides and entire staff.  Calling hours will be at Wellman's Funeral Home, Circleville Monday, September 11, 2017 from 2-4 and 6-8 and burial in Reber Hill Cemetery and funeral Tuesday, September 12, 2017 at 10:30 a.m. at Trinity Lutheran Church officiated by Pastor Gerhard Kraus.  Online condolences can be made to www.wellmanfuneralhomes.com.