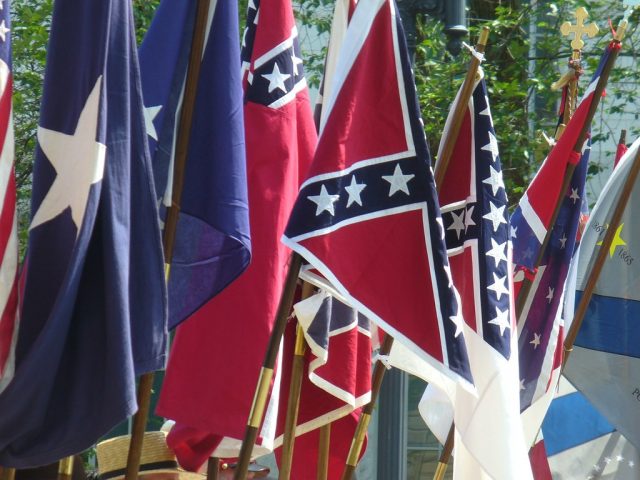 US – The US Marines signed a order on June 5, 2020 that bans the confederate flag on its installations.



This ban would removed the flag from work places, cannon-access areas, and public areas on marine property.
"The Marine corps shall remove the confederate battle flag from all installation public spaces and work areas in order to support out core vales, ensure unit cohesion and security, and preserve good order and discipline."



Some items are not including in the definition of a confederate flag,
DISPLAYS WHERE THE CONFEDERATE BATTLE FLAG IS DEPICTED, BUT NOT THE MAIN FOCUS OF THE DISPLAY. FOR EXAMPLE, WORKS OF ART, EDUCATIONAL, OR HISTORICAL DISPLAYS DEPICTING A CIVIL WAR BATTLE WHERE THE CONFEDERATE BATTLE FLAG IS PRESENT, BUT NOT THE MAIN FOCUS OF THE WORK.
4.B.2. STATE FLAGS WHICH INCORPORATE THE CONFEDERATE BATTLE FLAG.
4.B.3. STATE ISSUED LICENSE PLATES WITH A DEPICTION OF THE CONFEDERATE BATTLE FLAG.
4.B.4. CONFEDERATE SOLDIERS' GRAVE SITES.
4.B.5. IT IS IMPOSSIBLE TO SPECIFY EVERY POSSIBLE EXCEPTION THAT MAY APPLY. COMMANDERS ARE EXPECTED TO APPLY THEIR BEST JUDGMENT INFORMED BY THE SPIRIT AND INTENT OF THIS MARADMIN. IF A COMMANDER ENCOUNTERS QUESTIONABLE CIRCUMSTANCES, THE COMMAND STAFF JUDGE ADVOCATE SHALL BE CONTACTED FOR LEGAL REVIEW AND ADVICE.
The directive did not include the national museum of the Marine Corps, San Diego, Parris Island, or any other insertion that addresses Civil war from a neutral, historical or education perspective, and are appropriate venues for the symbol.