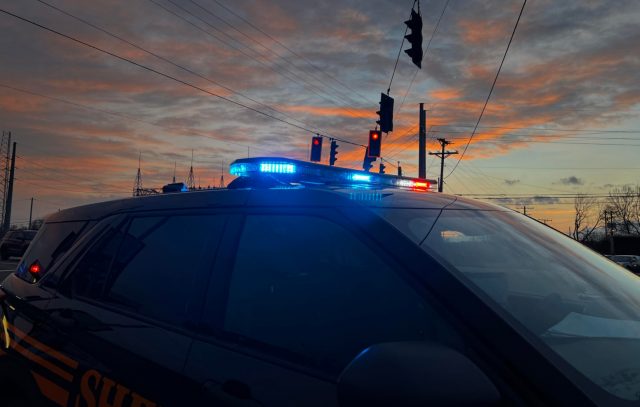 Lawrence County – A woman took off from someone who possibly attempted to kill her on her way to school this morning. In response to the shooting, the local schools were locked down in Lawence County Ohio.
Accoridng to the Sheriffs office, about 7:42 AM, the Lawrence County Sheriff's Office received a call from a female victim who advised she had been shot at this morning by an unknown male. She claimed that she was on her way to Rock Hill Middle School and she began to feel ill and pulled over near the Lawrence County Juvenile Center on SR 93. She advises that she was parked in the gravel lot that leads to the walking track when an unknown male wearing a camouflage outfit and a camouflage hat with netting that covered his face, approached her vehicle on foot and began to shoot at her with a handgun while she sat in her vehicle. The victim fled the scene as at least two bullets struck her vehicle. The victim returned to Ironton where she met with Deputies and Detectives.
The victim did not suffer any injuries, however, it appears that at least one bullet went through the back glass and a second bullet struck the rear fender on the passenger side of the vehicle. Because the victim in this situation is an employee of the Rock Hill Schools who was on her way to work, the school district was ask to be on a heightened alert as a precautionary measure.
Jerrino Johnson 52 year old black male of 216 Park Ave South Point, Ohio Apt. 15, was apprehended at approximately 1:40 PM at his apartment without incident. Johnson will be housed in the Lawrence County Jail on suspicion of Attempted Murder ORC 2903.02 a felony of the 2nd degree.
As the investigation developed, evidence was obtained that lead us to suspect Johnson, who is a former boyfriend of the victim. This investigation is still ongoing and further charges could be added.