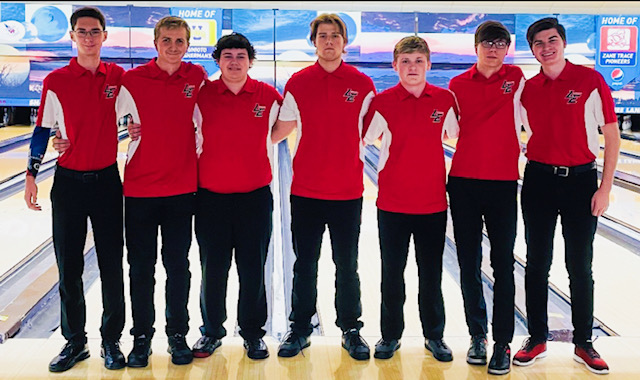 PICKAWAY – A multi-county roll-off occured over Thanksgiving weekend that had one of our Pickaway teams come out on top.
Pickaway county high school bowling teams Circleville, Logan Elm, and Westfall join Chillicothe, Unioto, Vinton County, Wellston, and Zane Trace to compete in the First Capitol Conference at Shawnee Lanes.  The Logan Elm Braves 2360 total defeat second-place Chillicothe Cavaliers by 70 pins.
Logan Elm's Lance Berard (495), Bryce Baltzer (454), and Simon Cameron (410) place in the top 5 all-tournament bowlers. Berard finished first, Baltzer second, and Cameron fourth. Chillicothe's Jacob Lemaster (419) earned third and Vinton County's Carson Channell (417) earned fifth.
Chillicothe Cavaliers finish second and Vinton County third in the tournament.
The Lady Braves (1554) finish third behind Chillicothe (1822) and Zane Trace (1604). Logan Elm's Julia Kitchen (393) earned second all-tournament. Chillicothe's Maddy Gilbert (433) earned first and Julia Lemaster (371) third, Westfall's Mackenzie Drone (290) fourth and  Zane Trace's Emma Corcoran (290) fifth.