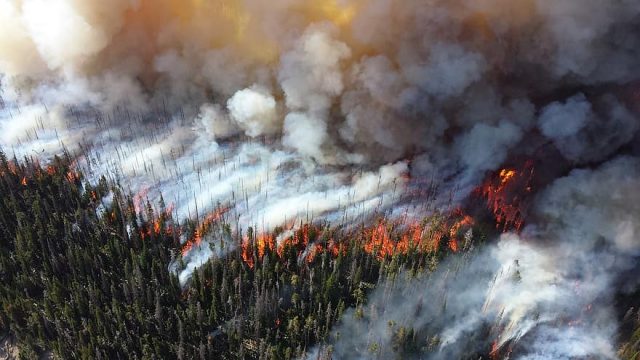 Chillicothe-September 14, 2020- Dozens of local Red Cross volunteers are on their way to join a massive relief effort across three western states to ensure those impacted by the devastating wildfires have food, shelter, relief supplies, emotional support, and other needed assistance. The volunteers from the Central and Southern Ohio Region join more than 900 Red Cross disaster workers providing assistance both on the ground and virtually.
The deadly wildfires continue to burn out of control across the west, forcing hundreds of thousands of people to evacuate, especially in California, Oregon and Washington. Saturday night, the Red Cross and our partners provided more than 9,600 people with safe refuge from the wildfires in temporary emergency lodgings, including shelters and, in some cases, hotels. Additionally, the Red Cross has already served more than 147,000 meals and snacks, as well as distributed more than 20,000 relief items. It could be weeks before people evacuated because of the wildfires can return home, and the American Red Cross, along with our local volunteers, will be there to support them.
In addition to volunteers from our region who flew to their destinations out West, three Emergency Response Vehicles (ERVs) left our area this weekend for the long drive to Oregon. Those ERVs which left from Cincinnati, Chillicothe and Crawford County are expected to arrive in Salem, Oregon on September 16, 2020. The ERVs will provide mobile feeding and/or relief supplies and other critical disaster relief services to locations throughout Oregon where there are currently 14 large uncontained fires spanning 819,000 acres.
While we continue to send local disaster workers out West, there are still more than two dozen local Red Cross volunteers working in the Gulf Coast helping residents there recover from the effects of Hurricane Laura, at the same time the Red Cross is mobilizing supplies and volunteers in anticipation of Tropical Storm Sally.
To help people affected by the western wildfires or the recent hurricanes, please visit redcross.org or call 1-800-RED CROSS to make a donation. Donations enable the Red Cross to prepare for, respond to and help people recover from these disasters. To volunteer with the Red Cross, please visit redcross.org/volunteertoday.