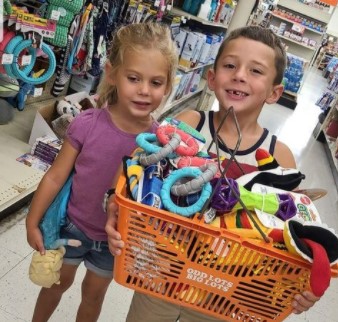 PICKAWAY – A local boy decided to make a difference this year when he decided to sell vegetables from his family farm to collect money for the local dog shelter.



Jay Cordle, 6 and his helping hand Marlee Cordle spent several days in the hot sun picking and selling vegetables. He set up his own vegetable stand where he sold over 100 dollars worth of inventory. Days after the sale his parents took him to the local store where he turned his cash into dog toys and then donated them to Pickaway Dog Shelter.



Cordles parents posted on facebook, "So proud of this boy, He spent several hours for two hot days outside selling veggies, melons, and sweet corn from our garden. He raised just over 100 dollars and spent every dollar on dog toys and leashes for the animal shelter. We hope he made some dogs very happy today."

The Pickaway dog shelter is a "no kill" shelter who proudly advertises aged dogs and works continuously to find these dogs homes. The Shelter is located at 21253 Ringgold Southern Rd Circleville, OH 43113.