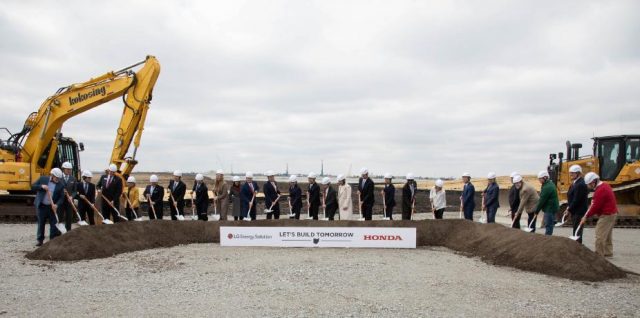 Honda and LG Energy Solution held the official groundbreaking ceremony for a new joint venture EV battery plant over 2 million square feet in size, to be located in Fayette County, near Jeffersonville, Ohio on Monday.
The two companies have committed to invest $3.5 billion in the new joint venture (JV) facility, with their overall investment projected to reach $4.4 billion. The facility is scheduled to be completed by the end of 2024, with plans to create 2,200 jobs, and the aim for approximately 40GWh of annual production capacity. The JV company will deliver lithium-ion batteries with cutting-edge technology to support Honda's plan to build battery-electric vehicles (EV) in North America.
The ceremony's attendees included Toshihiro Mibe, president and CEO of Honda Motor Co., Ltd., Dong-Myung Kim, president and head of the Advanced Automotive Battery Division of LG Energy Solution, Ohio Governor Mike DeWine, Lieutenant Governor Jon Husted, other members of state government and local community officials.
At the ceremony, the leaders of the new JV company, CEO Robert H. Lee and COO Rick Riggle, revealed a rendering of the new facility which will be located about 40 miles southwest of Columbus.
"It is an honor to represent two great corporations, Honda and LG Energy Solution, both with a long, proud history of success. LG Energy Solution is the leading battery manufacturer globally and is investing aggressively to meet demand for electrification. We are excited to embark on this partnership with Honda, a leader in the global auto industry with a reputation for quality and reliability," said Lee. "If we harness these strengths, I have no doubt our joint venture will be the most successful battery plant in the world, and we look forward to being a part of this massive transformation toward sustainability."
"We have talked a lot about the partnership between Honda and LG Energy Solution, but the communities of Southern Ohio are a part of this venture, too, and we see it not so much as a joint venture, but a tri-venture between our companies and the community," said Riggle. "We share similar values and perspectives regarding the relationship we want to have with our new workforce, and this spirit of teamwork will be key to our success."
The location of the joint venture between Honda and LGES was announced on Oct.11, 2022, and was formally established on Jan. 12, 2023. The plant aims to start mass production of pouch-type lithium-ion batteries by the end of 2025, to be provided exclusively to Honda auto plants to produce EVs to be sold in North America.
Honda also has announced plans to invest $700 million to re-tool several of its existing auto and powertrain plants in Ohio for production* of electric vehicles that will utilize the batteries made at the new JV facility. Honda plans to begin production and sales of Honda EVs in North America in 2026, based on its new Honda e:Architecture. As part of its goal to achieve carbon neutrality for all products and corporate activities by 2050, Honda has a vision to make battery-electric and fuel cell electric vehicles represent 100% of its vehicle sales by 2040.
Backed by the largest global battery manufacturing network it has established, LG Energy Solution has been carrying out its initiative to expedite the global EV transition, with its annual production capacity of 200GWh to further expand to 300GWh by the end of this year. Capitalizing on its ample R&D experience and operational expertise, LGES is devoted to providing competitive power solutions for its customers, thereby promoting the customer values and reinforcing the collective initiatives for clean energy transformation.
For more information about the joint venture battery plant, visit www.lgeshonda.com.