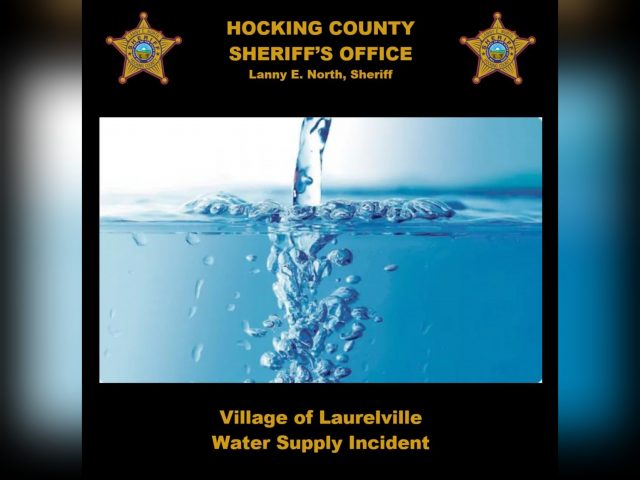 Hocking County OH- On Wednesday, June 30th, the Hocking County Sheriff's Office was notified by Laurelville Water Department employees that a water storage tank used in the village's water supply system had possibly been accessed or tampered with.
Village workers immediately isolated the water storage tank in question and Sheriff's Office Detectives responded to the assess and process the scene for evidence.
Out of an overabundance of caution, and guidance from the Ohio Environmental Protection Agency (EPA), a Water Boil Advisory was issued and was later upgraded to a Do Not Use Water Advisory.
Detectives collected physical evidence from the scene which will be sent to the Ohio Bureau of Criminal Investigation (BCI) Crime Lab for forensic analysis.
The Hocking County Emergency Management Agency (EMA), the Laurelville Fire Department and the Sheriff's Office coordinated with Village officials to provide Laurelville residents with usable water while the Do Not Use Advisory was in place.
Again, out of an overabundance of caution, the Ohio EPA recommended the isolated water storage tank, which contained nearly 95,000 gallons of water, be drained, flushed and inspected.
After the tank drained, certified individuals from the Hocking County Sewer Department, and Hocking County EMS responded to assist the Fire Department, Sheriff's Office and EMA with the inspection of the tank.
After the inspection was complete, the results were given to Ohio EPA personnel who allowed the Do Not Use Advisory to be lifted and the water to be used.
Laurelville Mayor Brent Ebert stated "I am humbled by the cooperation and dedication from everyone involved in immediately addressing this issue. The many different agencies came together and worked liked a well oiled machine to fix the problem. The village residents should be proud of our public service agencies and I am very thankful for their help and support."
At this time, there is no evidence that the water storage tank was contaminated. The investigation into the unlawful entry into the storage tank facility and the tampering with the water storage tank is currently ongoing. Anyone with information is urged to contact Sheriff's Office investigators at 740-385-2131.