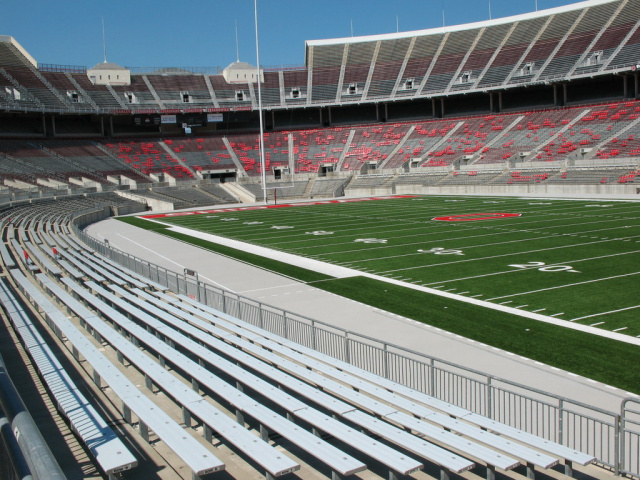 The Ohio State Buckeyes is a world-renowned football team with great accomplishments in sports. It is an eight-time national champion, won 41 conference championships with 39 Big Ten titles, has ten division championships, ten undefeated seasons, and six perfect seasons (no ties or losses).
Despite its impressive accolades, a lot is going on in this team, from losing a chance to sign Sammy Brown to nominating two players into the College Football Hall of Fame. So, what's new and trending about this team? Let's dive into the article and find out.
Jeremiah Smith Receives Backlash From Some Fans
Jeremiah Smith received loads of criticism on Twitter and other social media sites from some Buckeyes fans after the 17yr old was seen visiting other elite schools. The fans were angry because he had committed to Ohio State. In response to this backlash, Jeremiah Smith assured the fans that he was staying with the Buckeyes and wouldn't commit to any other school.
Fortunately, some fans came to his defense, stating that it's understandable if Smith intended to explore other options and enjoy the entire recruiting process. After all, who wouldn't want a red carpet and some free stuff from schools trying to convince you to sign up with them? It is undeniable that Smith has impressive stats, and he was the second-draft pick. However, Ohio State Buckeyes fans won't settle until they see him with the team's jersey on the field.
Two Buckeyes Players Nominated for the Hall of Fame
Two more former Ohio State football players can have an opportunity to be honored at the 2024 College Football Hall of Fame, although their fate will be determined through a ballot. The Buckeyes up for the Hall of Fame nomination are Chris Ward, an offensive line player in the mid-to-late 1970s, and James Laurinaitis, who currently works at the Buckeyes.
This nomination comes as no surprise since the Ohio State football program has managed to recruit a team of excellent players over the years. For this reason, it has more first-round draft picks than any other college program in history. They also have the most win streaks in college football, and many fans love to wager on them on sites from Ohio Sportsbooks. These sites have exclusive welcome offers, generous bonus bets, and even feature live betting. On top of that, they have numerous popular betting types such as spreads, totals, moneyline, and futures, among other exclusive features.
The Buckeyes Miss Out on Sammy Brown
Ohio State was among the schools that thought they could sign Sammy Brown, the five-star linebacker. The 6'2 hard hitter visited the Tigers last weekend, and it seems Brown was convinced that his future was brighter with them.
Brown was the priority for the Buckeyes despite the team's verbal agreements with two other linebackers. This loss came as a blow to the team because their pursuit did not yield the desired result.
Ohio State Players Featured in 2024 NFL Mock Draft
Only a few months remain before the conclusion of the 2023 college football season. However, every football fan anticipates seeing where Ohio State Players might end up in the NFL draft. The recent mock drafts have so far featured 5 Buckeyes players.
Ohio State already ranks 4th in the 2024 recruiting rankings. Some of these players include;
Marvin Harrison Jr – Wide Receiver
J.T Tuimoala – Defensive End
Cade Stover – Tigh End
Jack Sawyer – Defensive End
Emeka Egbuka – Wide Receiver
Denzel Burke – Cornerback
Three other quarterbacks are predicted to be in the top half of the first round. This is great news for the team and its younger prospects.
Conclusion
The Buckeyes are a successful college football team with a massive fanbase globally. As a result, there's always something cooking with them. From new arrivals to future recruits, it is hard to know their next move. However, as we wait for more exciting news and highlights from the Ohio State Buckeyes, we can be sure that they will continue to build a formidable team and bring glory to their renowned program.